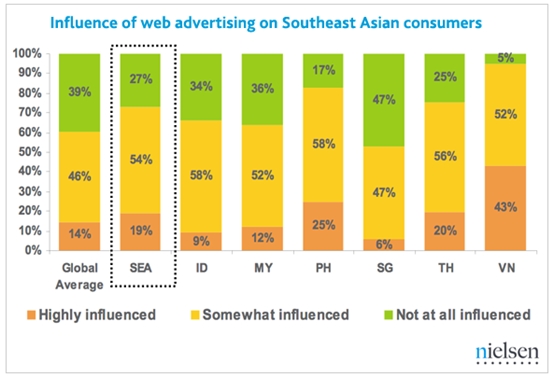 Nielsen recently came out with a research indicating that consumers in South East Asia are the most heavily influenced by online advertising.  The Nielsen research shows that 73% of South East Asian consumers said they were "highly" or "somewhat" influenced by web site advertisements on social media, which is much higher than the 60% global average.  The percentage is higher (80%) when the web advertisements have social context, like when some friends have liked the brand advertised.
In terms of online ads that are delivered to consumers based on previous purchases or other web sites visited, South East Asian consumers also rank high, with 74% saying they found this technique "made their lives easier", compared to just 58 percent globally.  The Philippines ranks high as to the level of reception to such ads with 83%.   
The Philippines tops the survey among consumers who have "liked" or followed a brand or company on social media.  The Philippines scored 79%.