In the dual-SIM scene, Alcatel's OneTouch 918N Glory handset is arguably one of the more popular ones.  it became known among dual-SIM users for its  cheap price tag and good features.  Released originally in all-black and black and silver variants, the Alcatel OneTouch 918N Glory is also now available in white.
I had the chance to review the black and silver version, and just recently, I was also able to check out the white variant.  I liked the all-black version then and now, the white version is not a bad option at all.
In terms of specs, the white Alcatel OneTouch 918N Glory is just the same as the black one.   Here's a rundown of the specs, in case this is the first time you heard about the handset.
Alcatel Blaze Glory 918N Specifications
3.2 capacitive HVGA screen with 320X480 pixels
TFT 262K color display
Android 2.3 Gingerbread
Dual SIM, Dual Standby
650Mhz processor
256MB RAM
Internal memory 2GB (150MB usable), expandable up to 32GB via microSD
3-megapixel camera
3G, Wi-Fi
Bluetooth 3.0 with A2DP
G-Sensor
A-GPS, Proximity Sensor, e-Compass
HSPA 7.2 Mbps
Lithium 1300 mAh battery
When I reviewed the Alcatel OneTouch 918N Glory, I gave it a fairly good score.  It was then a good alternative to the once leading Samsung Galaxy Y dual-SIM phone.   It's a true bang-for-buck handset, then retailing at P5,990.  Now, it's even cheaper at P4,990.   For this price, you can't easily find another handset with a nice 3.2-inch screen, dual-SIM functionality, 3G and HSPA, a 3 megapixel camera and Bluetooth 3.0 with A2DP.
You should now though that it still runs Android 2.3 Gingerbread and there's no word if there are official updates in the future.  Another thing that you should consider is the processor.  The handset runs on a 650MHz processor and though it does not limit the phone's performance, some uses might find this a deal breaker.  Curiously, the phone now runs a bit faster than the time it came out.  Alcatel probably made some adjustments that improved its performance.
The white version of the Alcatel OneTouch 918N Glory is admittedly more appealing than the pure black and black and silver versions.  The white coating definitely adds class to the handset, making it look more expensive.  Here are photos of the white Alcatel OneTouch 918N Glory.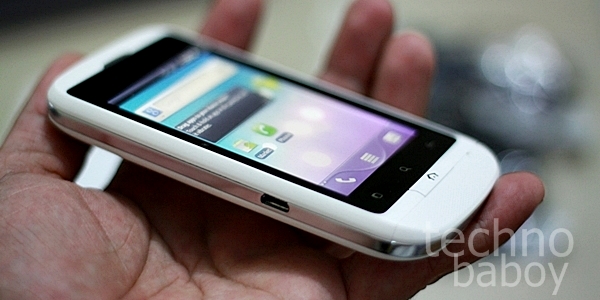 The new white casing is a bit glossy, but not too glossy.  It's practically all-white, except for the display screen and the silver trimming on the side, which is really a nice touch.  Overall, the white version of the Alcatel OneTouch 918N Glory is an improvement over the other versions.  If white is your color of choice, this is definitely good news.  If you need to read my review of the Alcatel OneTouch 918N Glory, go here.