Lenovo has expanded the Yoga brand to tablets after being successful in the laptop category.   We are now treated to the Yoga Tablet 8 and Yoga Tablet 10 slates, offering 8-inch and 10-inch displays as the names indicate.   These Android 4.2 tablets are unique as they give users the option of using them in three modes without the need of separate stands, cases or sleeves.
These modes are what Lenovo calls the Hold, Tilt and Stand modes.  These multiple modes of use is possible because the tablet has a kickstand that holds the tablet in two configurations and the third is simply the possibility of holding the device on its rounded bulge on the side.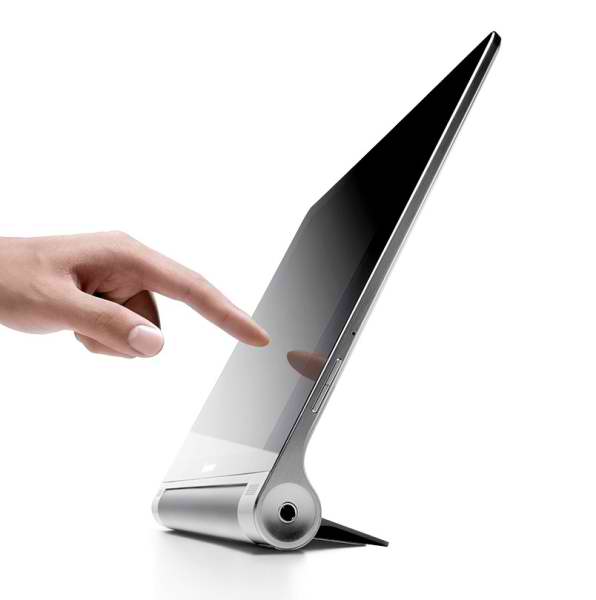 The design of the Lenovo Yoga Tablet 8 and Yoga Tablet 10 actually reminds me of the Sony Vaio because of the location of the power button, which is on the side of the rounded bulge.  Lenovo wisely capitalized on the presence of this bulge as it acts as a host of the tablet's battery, making it possible to achieve an 18-hour battery life.  That's a lot of computing time.  With the addition of one design element, Lenovo has achieved a lot.
The design might be good but the hardware specs aren't as impressive but they are compelling enough.  The screen resolution, for instance, only sports a 1280×800 resolution at a time when tablets are offering full HD displays.  The Yoga Tablet 8 and Yoga Tablet 10 both run on a 1.2 quad-core Cortex A7 CPU paired with 1GB of RAM and both also offer 16GB of internal storage.  There is a microSD card slot in case you need more storage.  Lenovo was kind enough to throw in a 5MP rear camera.
The 8-inch Yoga Tablet is priced at only $249 while the 10-inch version is priced at only $299.  They are really affordable considering the specs and the tablets' attractive design.
If you want to know more about the Lenovo Yoga Tablet 8 and Yoga Tablet 10, watch the videos below.
httpvh://www.youtube.com/watch?v=2YWnR8EPL28
httpvh://www.youtube.com/watch?v=fzK_qP-rK80
httpvh://www.youtube.com/watch?v=vQRp9FPvFF0
httpvh://www.youtube.com/watch?v=7a9K59G0Z0g