The local business process outsourcing (BPO) industry will be a big factor in fueling the commercial PC market's momentum. The BPO sector, after all, has accounted for 1,000,000 employees as of the first quarter of 2014, and still continues to witness 20% annual growth.
Setting its sights on the BPO sector, Lenovo has developed a host of space-saving and energy efficient all-in-one (AIO) desktops ideal for BPO firms that operate 24/7 in space-constrained offices. These Lenovo AIOs address BPO's all-day computing requirements for processing multiple transactions, enabling BPO centers to deliver exceptional service quality.
"BPO firms today need reliable computing solutions that also address their space and energy concerns. To support their needs, Lenovo has innovated the ThinkCentre M53 Tiny, ThinkCentre Tiny-in-One 23, and ThinkCentre E63z, which consume less power at 90W, occupy 70% less of desktop space, and provide reliable, enterprise level performance, amplifying productivity levels in BPOs," said Michael Ngan, Country General Manager, Lenovo Philippines.
ThinkCentre Tiny-in-One 23: Extreme configurability and cable management
The Tiny-in-One 23's front-access USB 3.0 audio ports and brilliant 23-inch FHD display allow BPO agents to make seamless video and audio calls to their clients. Its space-saving design allows BPO firms to "mix and match" a 23-inch AIO experience with all the current ThinkCentre Tiny PCs (sold separately), permitting separate refresh cycles of a traditional tower setup.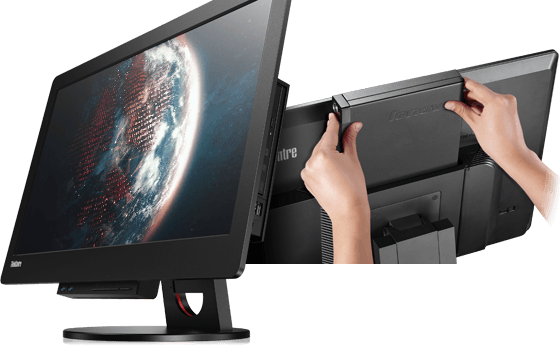 Unlike most traditional AIOs, the Tiny-in-One 23 is powered by a detachable ThinkCentre Tiny PC that seamlessly locks into the back of the monitor within seconds through a simple toolless setup process. This unique hybrid configuration not only provides BPO employees with a clean-desk computing experience free from cable clutter, but also allows them to configure their 23-inch AIO with a multitude of different chipsets and CPUs based on the BPO firm's unique needs.
Accredited with ENERGY STAR, the Tiny-in-One 23 features a 90W 87% power supply unit, for better energy efficiency in BPO firms. With the Tiny-in-One's ergonomic stand for tilt and height adjustment, BPO employees can complete their day-to-day computing tasks with greater flexibility.
ThinkCentre M53 Tiny: High power and low carbon footprint
The ThinkCentre M53 Tiny's Intelligent Cooling Engine (ICE) 3.0 provides a balance between thermals and acoustics. The ICE 3.0 also allows working in hotter temperatures and enables system monitoring with thermal alerts that preempt overheating. Accredited with ENERGY Star 5.2, EPEAT Gold, and UL Environment Gold, the ThinkCentre M53 Tiny also features Desktop Power Manager to efficiently customize power settings and balance power consumption with system performance in BPOs.
ThinkCentre E63z All-in-One: Optimal multi-tasking capacity and network security
The ThinkCentre E63z's view management utility allows BPO employees to use multiple active displays and easily switch between applications. This reduces errors and heightens productivity when multi-tasking.The USB port disablement and Smart USB protection reduces the risks of unauthorized use of storage device and data theft in BPOs.
Featuring powerful Intel Core i3 processors and a 19.5-inch display, the ThinkCentre E63z provides advanced security, manageability, and green environment capabilities while taking surprisingly little space on the desk at just 37.5 mm thick. The ThinkCentre E63z also supports an HDMI out port, card reader, and a Rapid Charge USB port, offering BPOs better connectivity. While the ThinkCentre E63z is ENERGY STAR and GREENGUARD compliant, it is also certified with EPEAT Silver, which helps BPO firms keep their power consumption at bay with excellent power management tools like the Desktop Power Manager.
Pricing and Availability
ThinkCentre Tiny-in-One 23" Monitor, ThinkCentre M53 Tiny, and ThinkCentre E63z are available at Lenovo corporate channel resellers, with pricing starting at Php15,990, Php20,000and Php24,990 respectively.