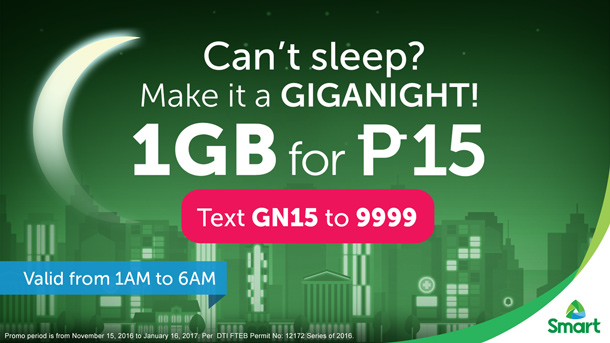 Check out Smart's latest offering! Get 1GB of open access data from 1AM to 6AM for only P15 with Smart's GIGANIGHT!
GIGANIGHT: 1GB Data for P15
This is perfect for night owls, insomniacs and those who work the graveyard shift. From 1AM to 6AM, Smart subscribers can get 1GB (!) of open access data for just P15. To subscribe of the service, just text GN15 and send it to 9999.
Talk about a good deal. Especially to our brothers and sisters in the callcenter industry. GIGANIGHT 15 data can be used to play games, watch movies, stream music or browse the web.
The service is available to Smart Prepaid, and Smart Bro Prepaid and Postpaid. If you are currently enrolled with existing mobile data offer, you can still register to GIGASURF 15 and any data activity you use between 1AM to 6AM will be deducted from your 1GB allocation. Best of all, if you don't fully consume the 1GB allocation, you can use it the following day again between 1AM to 6AM. Offer is only valid until January 16, 2017.
For more geek-centric news and reviews, please follow us on Facebook (facebook.com/TechnoBaboy), YouTube (TechnoBryan) and Twitter (@technobaboy). We'll do our best to keep you up-to-date.