Did you know that you can level up your family's digital experience, and save at least 15% off on your monthly bill by availing of the PLDT Christmas 3 Bundle Promo?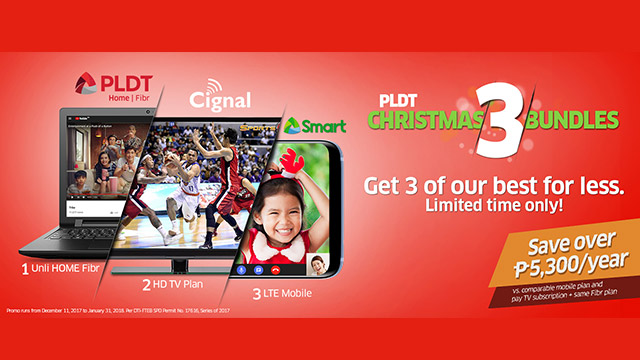 PLDT Christmas 3 Bundle Promo
PLDT together with Smart and Cignal TV offers product bundles that enable subscribers to easily mix and match their preferred internet, mobile, and pay TV plans.
PLDT Unli Fibr Plans
3 Mbps – Plan 1299
5 Mbps – Plan 1699
20 Mbps – Plan 1899
50 Mbps – Plan 2899
Smart Mobile Plan (SIM Only)
Plan 599
Plan 799
Plan 999
Plan 1499
Cignal TV Plan
Plan 490
Plan 630
Plan 830
Plan 990
Plan 1290
Plan 1590
The Christmas 3 Bundle Promo offers the convenience of a unified bill. Furthermore, subscribers can save up to 15% off their total bill when they choose to combine two or three services from PLDT Home, Smart, and Cignal TV. See sample bundle below:
| | | |
| --- | --- | --- |
| Broadband Plan | 3 Mbps Unlimited | P 1299 |
| Mobile Plan | 85 Channels | P 599 |
| Cignal TV Plan | 5GB, 30 mins calls, Unli Texts | P 490 |
| | | P 2388 |
| Savings | 15% Discount on MSF | P 358.20 |
| New MSF | | P 2019.80 |
According to Oscar Reyes Jr., the PLDT SVP for Consumer Business Market Development, beyond the convenience and the savings, a converged service will make it easier for families to level up their digital experiences in and outside the home. "We want to empower our subscribers to enjoy a complete and integrated digital experience powered by the country's most powerful broadband, fastest mobile service, and premier pay TV provider," he said. "With these bundle promo, our subscribers can conveniently enjoy the best of what we have to offer while getting the best deals that only the PLDT Group can offer."
Reyes stated, "As the leading digital and telecommunications group in the country, we want to reinforce the strength of our network and our market leadership by maximizing our unique ability to deliver converged services. For our subscribers, this simply means a more powerful and seamless digital experience wherever they are in the country."
For the past years, PLDT and Smart has been ramping up its infrastructures designed to support the Filipinos' growing use of fixed and mobile data. In fact, PLDT is spending Php11 billion in the next two years to roll-out over one million ports that will upgrade over 1.3 million subscribers to fiber technologies. Simultaneously, Smart, is also boosting its Smart LTE coverage and deployment of ultra-fast WiFi in the country's top urban hubs.
The Christmas 3 Bundle promo runs until January 31, 2018. For more information, check out www.pldthome.com/fibr.
For more geek-centric news and reviews, please follow us on Facebook (facebook.com/TechnoBaboy), YouTube (TechnoBryan), Twitter (@technobaboy), Instagram (technobryan), and Google+ (technobryan). We'll do our best to keep you up-to-date.