Leaked images of the Vivo V9 shows a small notch. Also reveals a large 18:9 display, tiny bezels, a vertical camera layout, and a 24MP selfie camera.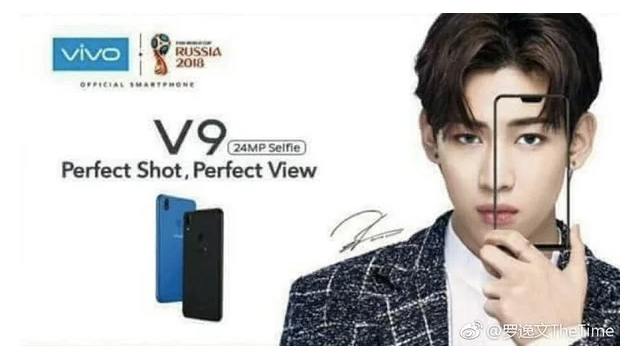 Vivo V9 leaks
Ever since the iPhone X came out, almost every smartphone manufacturer is coming up with a notched smartphone. Vivo is no different. Several leaks made it online that features a new phone, the Vivo V9, bearing a small notch on the display and a 24MP selfie camera.
As you can see on the poster, the Vivo V9 looks to have a large 18:9 display with a notch, and thin bezels resulting in a wide screen-to-body ratio. At the back is a dual camera in a vertical layout, another homage to the iPhone X. You can also spot the fingerprint scanner there.
Also Read:
Another leak shows us a closer look at the phone's front and back. The large 18:9 display is shown again, as well as the dual camera in a vertical layout, and the fingerprint scanner at the back.
Despite the design though, the Vivo V9 is still all about the selfie. It looks to sport a 24MP selfie camera, with rumors pointing to a midrange Snapdragon 660 chipset.
Back at the MWC 2018, the manufacturer announced the Vivo Apex, giving us a glimpse of a notch-less smartphone with really tiny bezels, advanced in-display fingerprint technology, and a pop-up front camera. Its something we can look forward to from one of the world's largest smartphone brands. For now, we'll wait for the Vivo V9 and see if the notch (among other things) will appeal to buyers.
The Vivo V9 will soon be joining the multitude of Android smartphones who decided its a good idea to copy the iPhone X. There is no information about price or release date as of yet. But judging on the product poster, its coming soon.
For more geek-centric news and reviews, please follow us on Facebook (facebook.com/TechnoBaboy), YouTube (TechnoBryan), Twitter (@technobaboy), Instagram (technobryan), and Google+ (technobryan). We'll do our best to keep you up-to-date.
[Source: GizmoChina, 2]