Tablets have seen a resurgence in the past months with work-from-home requirements and online schooling. With past sale events, many scrambled to get their hands on one.
And if you're one of those who have gotten a new MatePad, Huawei shares some things you can do with it. Maybe even start a new hobby.
1. Digital Journaling
Digital Journaling is one of the most effective and eco-friendly ways to reduce stress and anxiety. Take me for example. I like to write (hence this blog) to get over mine.
Some of the things you can write about include expressing your ideas, telling interesting stories about your quarantine experience, or just recording your thoughts.
For this, the Huawei MatePad is a great note-taking tablet. It really is. You can use the M-Pencil and the Notepad app to write, draw or doodle. It offers a smooth experience like pencil on paper. And with ultra-low latency, writing will feel natural.
2. Baking or Cooking
Now is a good time to learn a new skill, so why not learn how to cook or bake? Everybody seemed to have turned into home cooks and bakers. A quick look at your social media timeline proves it.
If this triggers curiosity in you, get your tablet as soon as you read this and turn your tablet into a cook book or a teaching aid. The AppGallery, for example, has a few apps to help, such as Kitchen Stories, Recipe Book, and more.
3. Digital Drawing
This is something close to my heart — art. Its something I want to learn. Besides, I hear its a good way to relieve stress.
The Huawei MatePad and the M-Pen is the best pair for this. You can visit number 1 on this list for the reason why.
4. Learn a new language
Because why not. Learning a new language is a positive. Not only is it impressive, but iot will also give your professional and social background a big boost.
You might also like:
The AppGallery on your MatePad has a the right apps to help with this venture. You can try Lingokids – English for Kids, Learn Korean, Learn Japanese, Chinese – LingoDeer, and Tandem Language Exchange: Speak & learn languages, to name a few.
5. Work Out
This one should be on everyone's list. Take care of yourselves, because no one else will do it for you.
The MatePad can help you live a healthier lifestyle. Watch workout videos on YouTube or use apps, such as Workout – Fitness at Home 2020 and Home Workout – No Equipment. Whatever it takes to get you off your butt and start.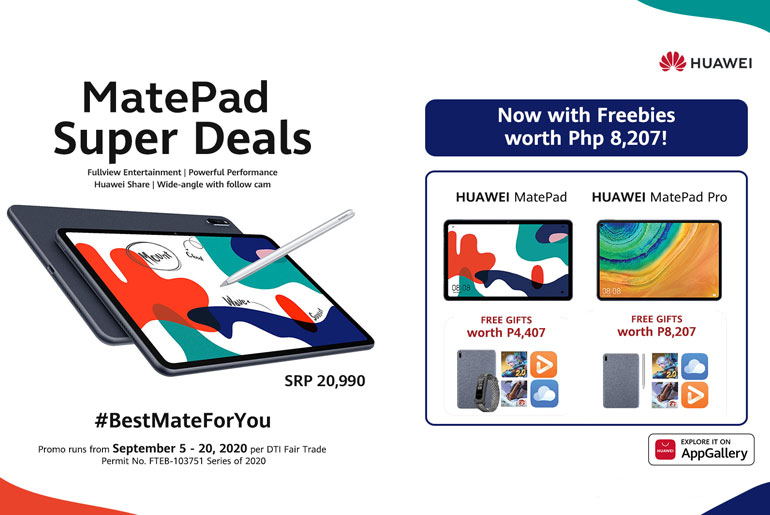 Huawei MatePad
The Huawei MatePad is priced at PHP 20,990. From September 5 to 20, purchases will come with the following freebies:
Huawei Band 4e worth P 1,390
Huawei MatePad flip cover worth P 990
15GB Huawei Cloud storage free for 1-year worth P 388
Huawei Video TVB 3 months free membership worth P 540
Huawei Video Mango TV 1-month free membership P 99
Coupon + gift package for Mobile Legends and Garena: Free Fire worth P 500 each
You can check out Huawei's offer on the MatePad's listing page here.
The Huawei MatePad comes with 10.4-inch 2K display with a wide layout and narrow 7.9 mm bezels. Inside, the tablet is powered by a Kirin 810 processor with 4GB + 64GB and 6GB RAM + 128GB configurations. It has an 8MP main camera and an 8MP selfie snapper.
You might also like: Huawei promo bundles MatePad & MatePad Pro with freebies
The table has Harman Kardon tuned stereo speakers with USB Type-C charged 7,250mAh battery. It runs on EMUI 10 on top of Android 10. And like most new Huawei devices, it has Huawei Mobile Services in lieu of Google.
It is out in online and offline stores with a price of PHP 20,990.
Huawei MatePad specs
Display: 10.4-inch 2K IPS FullView Display, 2000 x 1200
Processor: 1.88Ghz Octa-core Kirin 810 Processor
GPU: Mali-G52
RAM: 4GB/6GB RAM
Storage: 64GB/128GB Storage, MicroSD Card Slot up to 512GB
Rear Camera: 8MP Rear Camera, LED Flash
Front Camera: 8MP Selfie Camera
Network: 4G LTE
Connectivity: Wi-Fi 802.11ac, Bluetooth 5.1, GPS
Others: USB Type-C, Harman Kardon Stereo Speakers
OS: EMUI 10, Android 10, Huawei Mobile Services, AppGallery
Battery: 7,250mAh Battery, 18W Fast Charging