Here's our review of the Tecno Mobile Pouvoir 4.
Tecno Mobile burst into the Philippine smartphone scene with affordable products. Their offerings boasts large displays and huge batteries.
The Tecno Mobile Pouvoir 4 is one of those devices, and today, I'm going to write about my experience with the phone. Despite difficulties with pronouncing the name (I think its pronounced "poh-vwah"), it does offer an interesting set of features for the price.
So, is it worth your money? How does the specs hold up to the price tag? Let's find out.
Price
Like I said, the Tecno Mobile Pouvoir 4 is an affordable phone. It is priced at PHP 4,590, and is available in the Philippines. You can find the phone in Tecno Mobile stores nationwide or through their official store in Shopee.
Now, most of how we'll look at the Pouvoir 4 will be related to its price. This is a budget phone, so that's something we can't ignore. I mean, how much nitpicking can you do with such a low price.
Design
The Tecno Mobile Pouvoir 4 is a large device fronting a 7-inch display with a thickness to match. Unlike other devices, this has no qualms about its size, embracing its phablet-ness (if there's such a word).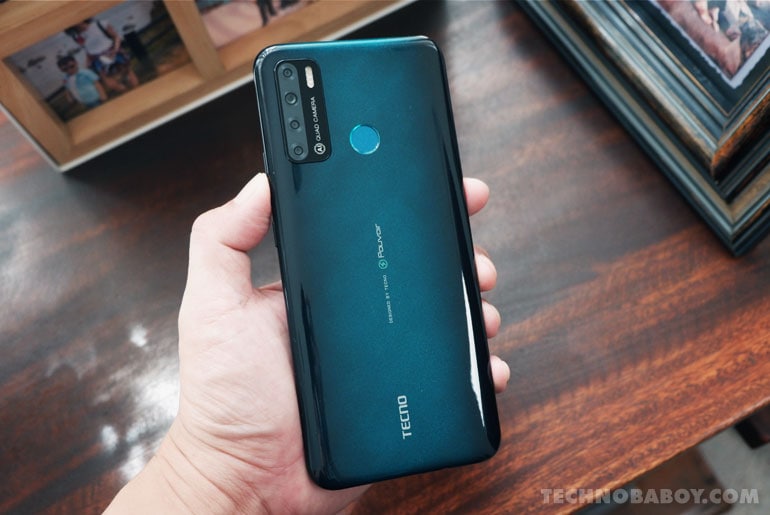 In the hand, its a pretty solid phone. Its made of plastic, but it doesn't feel cheap. The back, though, feels hollow. You'll know there's some space behind it.
RELATED: TECNO POVA with 6000mAh battery launches in the Philippines
Design-wise, the Pouvoir 4 looks okay. Its not ugly, but it won't win any beauty awards. It kind of sits right there in the middle, maybe a notch lower. This isn't something the phone's target market would mind, I feel.
The phone has the volume keys and power button on the right. It has a dedicated button (in red) for Google Voice on the left. Its a quick way of issuing voice commands, if you're into that.
At the bottom, you have the microphone, the headphone jack, micro USB port, and the mono speaker.
Display
The phone's huge 7-inch display is bright. It looks good at this price point. Colors are a not as saturated as I might have liked, but its not bad. You'll probably only notice it when placed side-by-side with other devices.
The display has a 720p resolution. Because of the size, this results in a drop in sharpness. Its more noticeable while watching videos and on YouTube. Its not bad, and most will probably not notice this.
Performance and Benchmarks
Inside, you have a 2.0GHz quad-core MediaTek MT6761V processor with 3GB RAM and 32GB storage. It runs on HiOS based on Android 10.
In basic operation, the phone is snappy and responsive. There are instances of lag, but its far and few between. It can handle many apps with ease, and can run most games with on low graphics settings.
You can check out the benchmark scores below.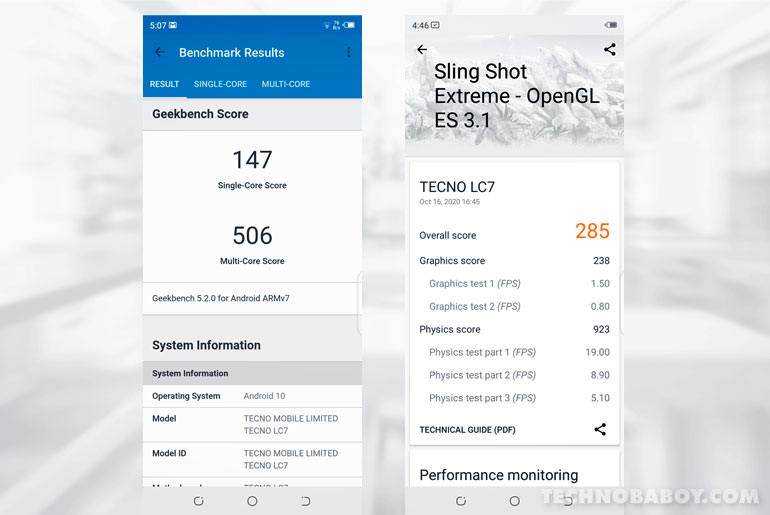 The phone also comes with stereo speakers and a fingerprint scanner at the back. The speakers are loud, but sound tinny and hollow, especially in full volumes. The fingerprint scanner, on the other hand, is fast.
RELATED: TECNO Spark 5 Pro only P5,999 on Shopee Super Phone Sale
One of the things that bothered me with the phone is the bloat. It has a quite the number of pre-installed apps and games. I understand that those probably offset the price, and that you can in fact uninstall them, still its something to keep in mind.
Another issue brought about by the bloat are the app and game notifications. You will be bombarded with it. For some, it may not matter. Uninstalling some of it helps. You can also turn it off per application. Again, its just something to keep in mind.
Cameras
The Pouvoir 4 has a quad camera setup with a 13MP main, a 2MP macro, a 2MP depth, and "AI Lens" as the fourth.
The camera app has the AI Cam (the main camera mode), along with video, beauty, bokeh, AR shot, and panorama modes. You can also use the same modes on the selfie shooter.
Take note that there's a slight delay between pressing the shutter button and actual capturing of the image. You'll notice this when you move the phone right after taking a shot, resulting in off focus and off center images. Hopefully, an update is released to fix this.
Photo quality actually looks pleasant. Colors are above average. Details and sharpness are a bit soft. Still, it can hold its own against more expensive phones.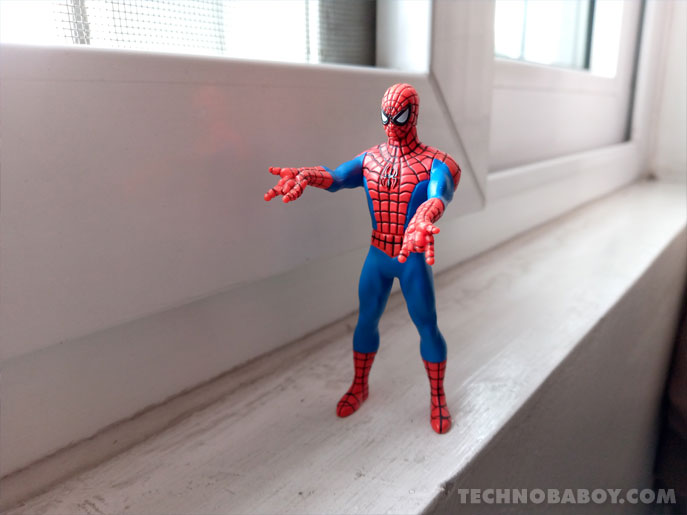 Here's a progression of photos to give you an idea of the image quality from wide to max zoom.
Selfie camera, on the other hand, doesn't do as well as the back cameras. Colors look muted and there is a lack of sharpness and details. Still, its acceptable given the low price tag.
Battery Life
Now we're at one of the Pouvoir 4's main highlights, the huge 6,000mAh battery. With light to moderate use, the phone can give you a day and half up to two days. Its pretty good. No doubt the HD display and power efficient processor has something to do with it.
The issue, though, is charging. The battery is so large that it takes more than 3 hour to complete.
Wrap Up
Tecno Mobile is trying to balance affordability and performance. And the Pouvoir 4 is a good attempt. For PHP 4,590, the phone does a lot of things that is "good enough," easily shooting way above its price. It does have its quirks (like bloat and unwanted notifications), but its easy to let it slide when you remember how much it costs.
Tecno Mobile Pouvoir 4 specs
Display: 7-inch HD+ IPS Display, 1640 x 720
Processor: 2.0GHz Quad-core MediaTek MT6761V Processor
RAM: 3GB RAM
Storage: 32GB Storage, MicroSD Expansion Slot
Rear Camera: 13MP Main + 2MP Macro + 2MP Depth + AI Lens; Quad Cameras
Front Camera: 8MP Selfie Camera
Network: 4G LTE
Connectivity: Wi-Fi, Bluetooth, GPS
Others: MicroUSB Port, Rear Fingerprint Scanner, Stereo Speakers, Headphone Jack, FM Radio
OS: HiOS, Android 10
Colors: Cosmic Shine, Ice Jadeite, Fascinating Purple
Battery: 6,000mAh Battery