Here's how to tell how much storage your Gmail, Google Drive, and Google Photos are using and what options you have to mitigate this.
Nothing lasts forever, and that is certainly the case with Google Photos. Google recently announced that it will cease offering the service's unlimited free storage starting next year. To prepare for this, the company introduced a nifty tool that tells users how much storage they have left and how long it will last.
To check how much storage you are using, go to https://photos.google.com/storage. You will be shown a personal estimate of how long your remaining storage is going to last, based on how often you back up your content to your Google Account.
You will also see how much storage you have left and how much each is used by the service you are using. For those unaware, your Google account comes with 15GB storage that's shared across Gmail, Google Drive, and Google Photos.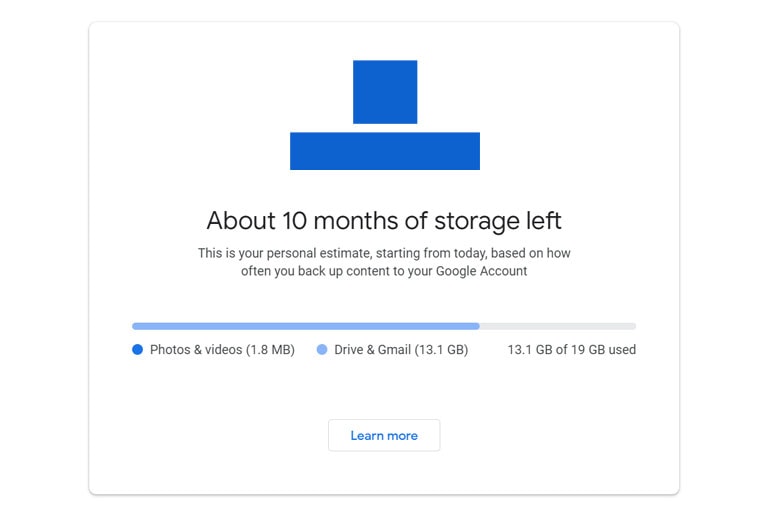 What to do next?
So what happens if you are about to use up all your storage? Google provides you with a couple of options.
The most obvious one is to start deleting some of your content. You can start by going to Gmail, Google Drive or Google Photos to start the clean up. Make sure to download a back-up of your data first before proceeding.
For Android users, you can download the Google One app on Google Play to get started. Under the Storage tab, you can delete discarded items easily with by tapping "Free up account storage."
Another option is to buy additional storage from Google. Paid storage options are surprisingly affordable, starting at Php 89 per month of 100GB.
You can check out the paid storage options below:
100GB: Php 89 /month or Php 889 /year
200GB: Php 159 /month or Php 1,499 /year
2TB: Php 479 /month or Php 4,799 /year
10TB: Php 2,399/month
20TB: Php 4,799/month
30TB: Php 7,199/month
While there are certainly other third party options available, the ones offered by Google certainly is the most convenient.