The latest report from Canalys ranks Samsung as the leading manufacturer shipping 69.4 million units for a 21% market share in Q3 2021.
It's no surprise that Samsung is number one by a large margin with multiple smartphones that cover the whole range from budget to premium. The big take here is that Apple is now second, backed by strong sales from its latest iPhone 13 series together with the momentum from the iPhone 12 series. They shipped 49.3 million units for a 15% market share.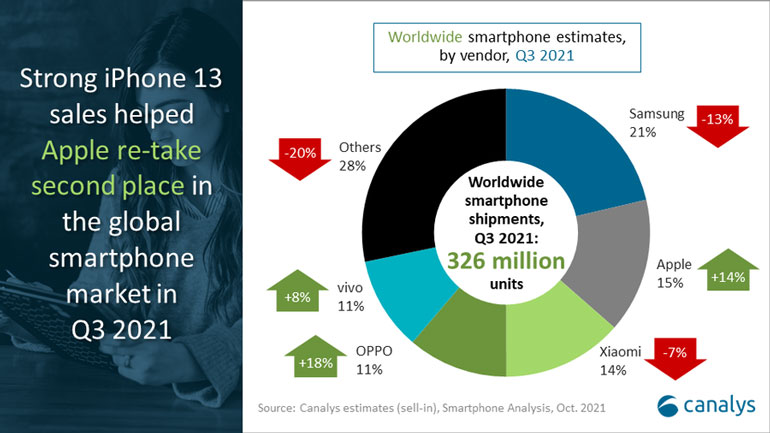 Xiaomi fell to third, which was hit by the lack of supply of chips to meet the large demand for its products. The Chinese company still shipped 44 million units for a 14% market share.
ALSO READ: Smart subscribers can get 6-month subscription to Apple Music for free
OPPO and vivo are four and five on the worldwide rankings, having shipped 36.7 million and 34.2 million, respectively. Both companies have an 11% market share. Meanwhile, the rest of the lot has 91.9 million units shipped which encompasses the remaining 28%.
Vendor
Q3 2021 shipments (million)
Q3 2021
market share
Q3 2020
shipments (million)
Q3 2020
market share
Annual
growth
Samsung
69.4
21%
80.2
23%
-13%
Apple
49.2
15%
43.1
12%
+14%
Xiaomi
44.0
14%
47.1
14%
-7%
OPPO
36.7
11%
31.1
9%
+18%
vivo
34.2
11%
31.8
9%
+8%
Others
91.9
28%
114.6
33%
-20%
Total
325.5
100%
348.0
100%
-6%
Overall smartphone shipments fell 6% year-on-year in Q3 2021. As we enter the last quarter of the year, the smartphone vendors are expected to bounce back. But it might be a difficult climb as they scramble for supply amidst the ongoing global chipset shortage.
Source: Canalys