You have to hand it to Cherry Mobile.   For a local handset company going against big brands, Cherry Mobile has had an impressive run in the past years and it is the only local brand to have consistently offered capable Android handsets at very low price points.  And just when you thought Cherry Mobile's handsets cannot get any cheaper, the company surprises us with even cheaper Android handsets.
The Cherry Mobile Candy is one of the cheapest Android handsets in the country today, the other one being the Cherry Mobile Candy Chat.   The candy is priced at P3,699 and it is dual-SIM, Wi-Fi capable, and has camera, FM radio and even Bluetooth.  It runs a 416MHz processor, though, but this should just be right for the price of the device.  The Candy has a 2.8-inch resistive screen and does not have a physical keyboard.
Cherry Mobile Candy Specifications
Android Froyo 2.2
2.8″ Resistive Touch Screen
Dual Sim/Dual Standby
MediaTek 416Mhz Processor
ROM: 256mb / RAM: 128mb
Dual Band GSM/GPRS/EDGE 900/1800
WiFi
1.3 MP Camera
FM Radio
3.5mm Headset Jack
Bluetooth
Expandable Micro SD up to 16gb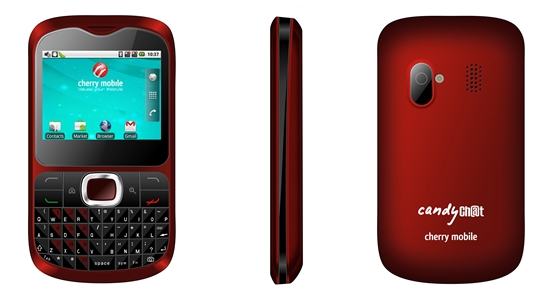 The other cheap Android handset is the Cherry Mobile Candy Chat which is also priced at P3,699.  Unlike its Candy sibling, the Candy Chat has a physical QWERTY keyboard.   This is clearly targeted at users who prefer physical keyboards over virtual ones.  The Candy Chat is also dual-SIM with the same 416 MHz processor and also has a resistive screen.  This one does not have Bluetooth connectivity.
Cherry Mobile Candy Chat Specifications
Android Froyo 2.2
2.4″ Resistive Touch Screen with QWERTY Keypad
Dual Sim/Dual Standby
MediaTek 416Mhz Processor
ROM: 256mb / RAM: 128mb
Dual Band GSM/GPRS/EDGE 900/1800
WiFi
1.3 MP Camera
FM Radio
3.5mm Headset Jack
Expandable Micro SD up to 16gb