How addicted are you to the game Temple Run?  If you are one of those who cannot put down their iPhones, iPads or iPod Touches because of the popular iOS game, you might want to put your running skills (more like swiping skills) into good use.
Beyond the Box, one of the Apple retailers in the Philippines, has an ongoing in-store gaming competition and up for grabs are cool prizes.  You can head over to Beyond the Box Resorts World or Beyond the Box Rockwell now and test your Temple Run skills.  You can play the daily or weekly games or even join the grand battle.  You can play a maximum of 3 games in a day and the highest-scoring  game will be your entry for that day.
For the daily games, Beyond the Box is giving away items like Crumpler, Belkin and Malopero pouches.  For weekly games, up for grabs are Sumdex bags, while for the grand battle, Beyond the Box will be giving away a 32GB iPod Touch.   For game schedules for weekly games and the grand battle, please refer to the poster below.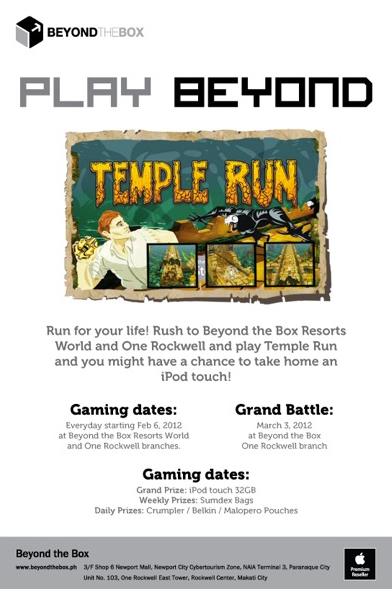 And for the mechanics of the promo, refer to this poster.
For more details, go to the Facebook page of Beyond the Box which you can find at facebook.com/beyondthebox.ph.