Smart's LTE network is finally going to be commercially available in the Philippines and the official launch is scheduled on August 25.  The availability of LTE in the Philippines is a huge technological development, seeing as it is that LTE or Long Term Evolution is the future of mobile internet.  It is faster than 3G and HSPA by a lot and it's exciting to know that it is finally going to be available in the country soon.
Just how fast is LTE?  The technology has a theoretical peak download rates of up 100Mbps and upload speeds of about 50Mbps.  In real-world situations, however, LTE speeds are more modest.  Smart's LTE promises 42Mbps speed but that's already very, very fast.
The cost of availing LTE technology is quite expensive, though.   That's going to be the case for now but we can only expect the cost to go down in time.  Smart LTE Plan 3500, for instance, will set you back P3,500 a month and that gets you 10GB of data.  In other countries, though, it is much more expensive so at least we Filipinos should be happy it's cheaper here, relatively that is.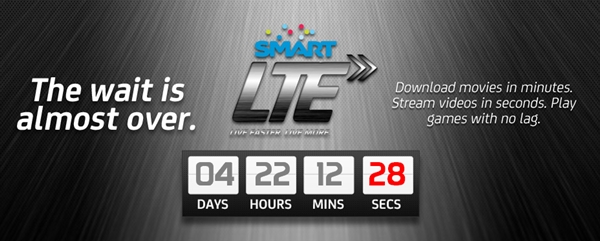 With Smart LTE Plan 3500 here's what you get:
 Speeds of up to 42Mbps
10GB of data
Expanded coverage in key cities around the Metro
Free Smart LTE dongle worth P8,000
If you want to be the first to experience LTE, go to this page.