Vers 1Q Bluetooth Speaker started as a Kickstarter project.  It was one of those projects that immediately started hot and got funding that exceeded its target by a lot.  It's nice that projects like these turn out to be great products when they hit the market, which the Vers 1Q definitely is, and it's even better that they actually reach the Philippines.   Read the rest of the review to find out what makes the Vers 1Q a great Bluetooth speaker and if it's worth your hard-earned money.
Vers 1Q Bluetooth Speaker – Design and Operation
From the packaging to the design of the product itself, the Vers 1Q Bluetooth Speaker manages to do everything right.  It's one of those gadgets that make you smile like a child once open the packaging.  The Vers 1Q is excellently packaged and from the time you hold the box, you know immediately that you'll be opening a premium product.  From the quality of the box to the choice of colors to what you actually see once you open the box, everything about the Vers 1Q is done tastefully.
Opening the box reveals the Vers 1Q Bluetooth Speaker placed inside a carrying pouch made of cloth, then the accessories are neatly stacked in a smaller box positioned on the side.   After you open everything you'll be left with the speaker, a charger, a mini-USB cable, a 3.5mm connector cable, three types of charger adaptors and a product manual.
The speaker itself is something to rave about.  It's gorgeous from every angle and it has excellent, top-notch construction.  It's small enough to be highly portable and it fits in your palm.  The Vers 1Q Bluetooth Speaker is made of solid wooden material and this is obvious when you hold it.  But in terms of weight, it is surprisingly light.  The version I reviewed has a bamboo finish that will definitely go with any design style that you have in your living room or bedroom.
The 2-inch 6.5W speaker is all that you see in front and on the back, there's a rounded hard plastic that houses the power button, two 3.5mm auxiliary slots, a mini-USB slot and an air vent.
The bottom of the speaker has two rubber strips that firmly hold the entire housing in place.
If there's anything some people may not like with this product, it's the fact that the speaker is not covered. It doesn't look thin and fragile however so in my opinion, this is not a real issue.  It's also recessed so it will not be easily damaged.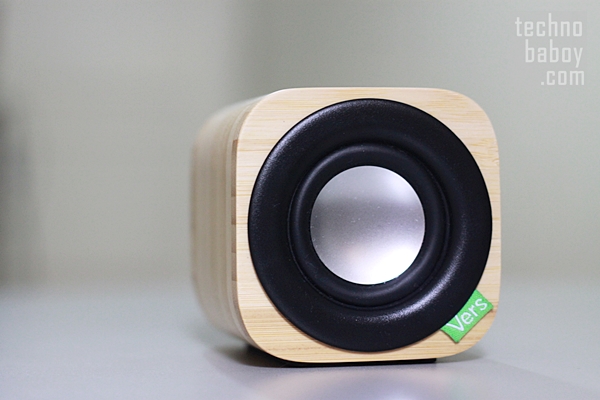 The Vers 1Q Bluetooth Speaker is versatile.  It can be used wirelessly through Bluetooth or wired using the 3.5mm cable that came with the box.   Connecting via Bluetooth is easy.  You just press then power button until it blinks, indicating that it's ready for pairing, and you simply search it on your device and hit connect.   The speaker has a 30-foot range so you can play your tracks even if you're a bit far from the Vers 1Q.   If you have two Vers 1Q speakers, you can even connect them through the 3.5mm auxiliary slots for stereo output.
Vers 1Q Bluetooth Speaker – Sound Performance
Vers 1Q got the design right but what makes this Bluetooth speaker really perfect is it also does brilliantly in the sound department.  If you are looking for a Bluetooth speaker this portable, I will not recommend anything else.  This beats anything I've tried so far when you consider size-and-sound balance.  The Vers 1Q easily beats all other Bluetooth speakers in its size range.
The overall sound is crisp and bright and mids come out clear and detailed.  The highs are well represented as well and even the lows have enough details, especially on bass-heavy tracks like Robin Thicke's Blurred Lines.  Other speakers this size usually suffers from low-quality bass that sounds thin and short on power.  With the Vers 1Q Bluetooth Speaker, the lows are warm and surprisingly have enough oomph to justify tracks that beg for solid bass.  Without doubt, the wooden casing contributes to the excellent sound on this speaker.
This Vers 1Q Bluetooth speaker is also sufficiently loud and can easily fill your entire living room or kitchen.  Turning up the volume does not result in any noticeable distortion and playing tracks on Bluetooth connection does not suffer from diminished sound quality.  The speaker sounds just as well when using Bluetooth as when you're playing tracks using the wired route.  In terms of battery life, the manual promised 8 hours on a single charge and I was able to get exactly that.  For a portable Bluetooth Speaker, 8 hours is a lot and that means you can carry this around without having to charge often.
The Vers 1Q Bluetooth Speaker is priced at Php 4,500 and is currently available at Ehome store located at G-1 Annaolis Wilshire Plaza, 11 Annapolis St., Greenhills, San Juan.  It will also be available in other stores soon.
Wrap Up
The Vers 1Q Bluetooth Speaker is currently my favorite Bluetooth speaker.  It is well-designed, well-constructed, and has a very impressive sound performance.  It may be small in size but it is big in sound.  It has good balance and the overall sound is bright and warm.  Mids and highs are detailed and the bass has enough power to give your bass-heavy tracks justice.
For the price of P4,500 the Vers 1Q Bluetooth Speaker is a steal.  With its superb design and fantastic sound performance, it can easily command a higher price.  If you're looking for portable speaker that looks good and sounds even better, look no further.  Right now the Vers 1Q Bluetooth speaker sits on top of my best Bluetooth speaker list.
Rating: 9.2/10