PhotoFast unveiled its newest expansion storage devices for iOS. The company is known in the country for their lightning connector equipped flashdrives and Mac storage accessory options.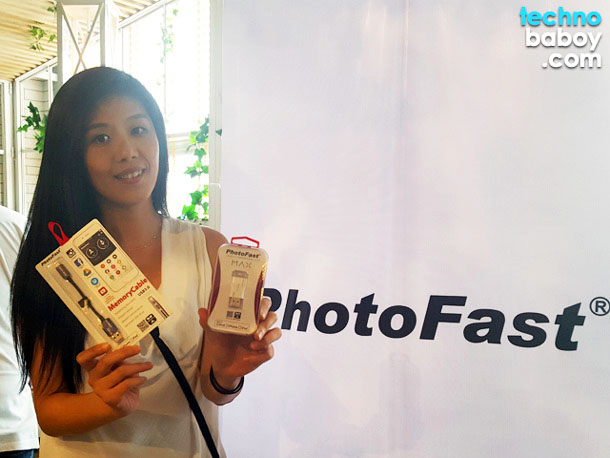 i-FlashDrive HD
The i-FlashDrive HD is a fast and slim OTG memory expansion solution for iOS devices. It is licensed by Apple and compatible with iPhones and other devices with Lightning adapters as well as 30-pin connectors. Transferring files to and from an iOS device is handled by the i-FlashDrive's ONE iOS app.
MemoryCable
The MemoryCable is essentially a lightning cable with an embedded storage. The accessory is only 13 cm long and has a USB 3.0 port at the other end. It is available in capacities of 32GB, 64GB and 128GB.
iFlashDrive MAXU3
The iFlashDrive MAXU3 is a two inch long storage device with a lightning jack on one end and a USB on the other. The lightning jack is protected by a clear plastic cover which you can pulled out and then pivots to one side. It will be available in 32GB to 128GB and storage options.
i-FlashDrive EVO and EVO Plus
The i-FlashDrive EVO has a secure file encryption for private files, document viewer for all major file formats, voice recorder and text editor and Dropbox support. It will be available in 8GB, 16GB 32GB and 64GB storage options.
On the other hand, the EVO Plus is the world's 1st cross-platform drive equipped with a lightning jack, a USB port and microUSB port. It also uses the i-FlashDrive ONE app to manage photo, video and other files. The new EVO Plus has capacity from 8GB to 128GB.
Availability
New and current PhotoFast flash storage devices and accessories are available in Beyond the Box stores nationwide.
For more tech-centric news and reviews, please follow us on Facebook (facebook.com/TechnoBaboy) and Twitter (@technobaboy). We'll do our best to keep you up-to-date.