Smart Bro partnered with Trail Adventours to keep the outdoorsey types connected while trekking or mountain climbing.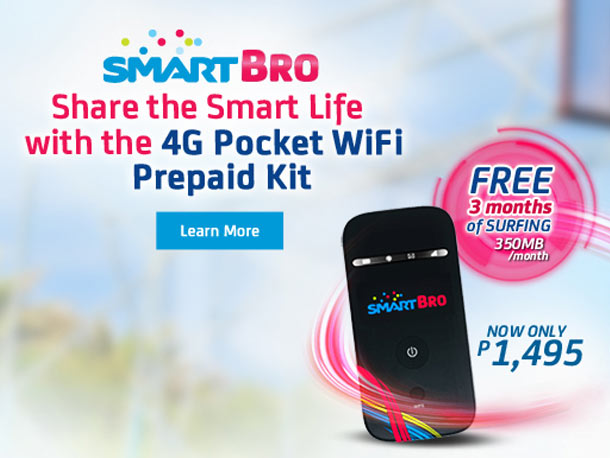 #SmartBroTrips
Local hikes and expeditions set out with Trail Adventours is now powered by Smart Bro Prepaid Pocket Wi-Fi. This means free Internet connection for your Facebook and Instagram.
Smart Bro Prepaid and Trail Adventours will also offer 20% Discount to ALL Trail Adventours Trips from December 2015 – November 2016 exclusive to Smart Bro Prepaid 4G or LTE Prepaid Pocket WiFi Subscribers. Moreover, Smart Bro Prepaid is including select Trail Adventours destinations in its list of #SmartBroTrips, which will include 8 FREE Trips monthly to be raffled.
#SmartBroTrips under Trail Adventours include hikes to Mt. Batulao in Batangas; Mt. Pico de Loro in Cavite; Mt. Pulag in Benguet; and Batad in Ifugao. All participants signing up for #SmartBroTrips destinations will automatically get a FREE travel kit, and will also get a chance to win a brand new Smart Bro Pocket WiFi.
The Smart Bro Prepaid 4G Pocket WiFi and the Smart Bro Prepaid LTE Pocket Wi-Fi retails for PHP1,495 and PHP3,495 respectively. Both are available at Smart Stores and other retailers nationwide.
Trail Adventours
Started in 2010 by a group of Outdoor enthusiasts and nature lovers, Trail Adventours is one of the leading outdoor adventure companies in the country. They offer over 40 expert-guided hikes and expeditions here and abroad.
For more information about #SmartBroTrips and Trail Adventours, you may visit  smrt.ph/smartbrotrips. You can also check out http://smart.com.ph/bro for Smart Bro's latest line-up of devices and offerings.
For more tech-centric news and reviews, please follow us on Facebook (facebook.com/TechnoBaboy), and Twitter (@technobaboy). We'll do our best to keep you up-to-date.