The Fitbit Ionic smartwatch is now available in stores across the Philippines, including Digital Walker and Beyond the Box. The wearable features up to 5 days of battery life, along with heart rate monitor, and water resistance.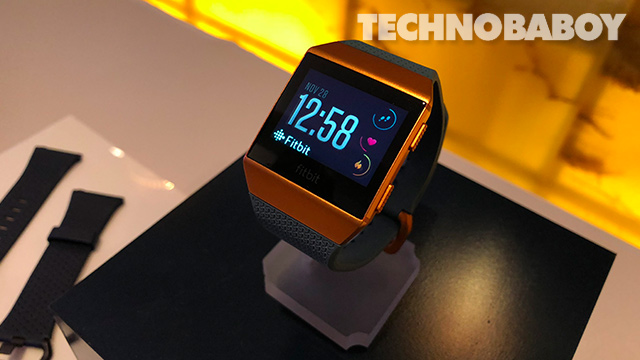 Fitbit Ionic
Attention all health and fitness enthusiasts! The Fitbit Ionic, a health and fitness smartwatch, is now available in the Philippines. Fitbit's new wearable features water resistance of up to 50 meters, heart rate tracking, GPS tracking, on-device workout guidance, and up to 5 days of battery life.
"With Ionic, we are delivering what consumers have not yet seen in a smartwatch – a health and fitness first platform that combines the power of personalization and deeper insights with our most advanced technology to date, unlocking opportunities for unprecedented health tracking capabilities in the future." – James Park, co-founder and CEO of Fitbit
The smartwatch was designed in-house using new processes and materials that improved the device's weight, fit, durability, breathability and daily wear. It has an aluminum grade body, a hi-res touchscreen with up to 1000 nits of brightness, Gorilla Glass 3 protection, an integrated GPS antenna, water resistance, and eight different sensors.
Under the hood, the wearable runs on the company's Fitbit OS, a new operating system that allows for apps and clock faces. Through the integrated App Gallery, you can add functionalities such as weather notifications, a personal trainer, a timer, and more.
Aside from mainstay features like the step counter and heart rate monitor, the Fitbit Ionic also have new ones such as the new SpO2 sensor (for estimating blood oxygen), the ability to store and play music via Bluetooth, and the ability to make payments through Fitbit Pay.
The Fitbit Ionic is now available in stores across the country with a suggested retail price of Php15,690. It comes in three color combinations of Charcoal and Smoke Gray, Slate Blue and Burnt Orange, and Blue Gray and Silver Gray. For more information about the device, you may visit https://www.fitbit.com/ionic
For more geek-centric news and reviews, please follow us on Facebook (facebook.com/TechnoBaboy), YouTube (TechnoBryan), Twitter (@technobaboy), Instagram (technobryan), and Google+ (technobryan). We'll do our best to keep you up-to-date.