Here come more OPPO F7 leaks. We already know what it looks like. This time, specs surface via leaked office document.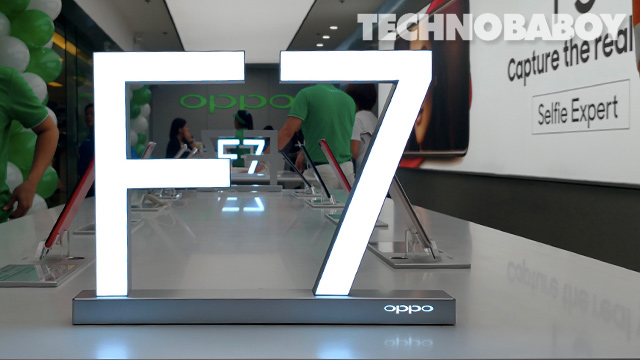 OPPO F7 leaked specs
With an expected April PH launch date, more OPPO F7 leaks are surfacing. This time, a photo of the company's sales pitch has made its way online. The handset was already heavily leaked to begin with, but this one adds details on specs that wasn't previously covered.
Before we proceed, here's what we already know so far about the OPPO F7. From previous leaks, we found that the F7 will come with a 25MP selfie camera with AI, a notched 6.23-inch 19:9 full HD+ display with 88% screen-to-body ratio, AR stickers, and that it will come in two flavors.
The leaked document has details on design, the processor, additional camera details, and more.
Lets start with the design, or rather, the chosen finish. The sales pitch makes mention that glossy is the fashion trend of 2018 which will help the phone stand out in the crowd. No further explanations here. There will be an option for one with a shiny finish, similar to the rumored OPPO F15 Dream Mirror Edition.
Also Read:
Next we have details on the phone's 25MP selfie camera, and an AI powered rear shooter. The AI Beauty Technology will be on its second iteration. The front camera will also have group selfie beautification, real time preview, HDR, Vivid Mode, and the aforementioned AR stickers.
The rear camera will have a 16MP sensor with AI Scene and AI Recognize Technology. The former helps identifies scenes and objects in real-time, and adjusts camera settings automatically. The latter provides distinction between people and background, adjusting for improved depth of field in photos.
As for the internals, the F7 is going to be powered by a MediaTek P60 processor with NeuroPilot AI technology, and a 3,400 mAh battery. According to the document, the new smart chip helps manage the background intelligently by learning the habits of the user, thereby improving performance and battery efficiency.
Another notable mention is the ColorOS 5.0 and the AI Board. The OS is based on Android 8.0 Oreo. The AI Board probably works like Samsung's Flipboard widget found when you swipe right. Its on the left screen of the launcher which features frequently dialled contacts, frequently used apps, reminders, weather updates, and a pedometer.
That's it for today's leaks. As always, (and I know I'm over using the line) take the information provided with a grain of salt.
The OPPO F7 will initially launch in India on March 26, 2018. We are expecting a Philippine launch this April. We'll know by then if all this is true or not.
OPPO F7 specs:
6.23-inch Full HD+ Super Full Screen Display (2280 x 1080)
19:9 Aspect Ratio, 88% Screen-to-body Ratio
25MP Front Camera, AI Beauty Technology 2.0, Group Selfie Beautification, Vivid Mode, AR Stickers
16MP Rear Camera, AI Scene, AI Album
MediaTek P60, NeuroPilot AI Technology
Face Unlock, AI Board
ColorOS 5.0 (Possibly, Android 8.0 Oreo)
3,400 mAh Battery
For more geek-centric news and reviews, please follow us on Facebook (facebook.com/TechnoBaboy), YouTube (TechnoBryan), Twitter (@technobaboy), Instagram (technobryan), and Google+ (technobryan). We'll do our best to keep you up-to-date.
[Source: Slashleaks]