Apple recently released iOS 12.0.1 to address various bugs, including the iPhone XS "charge-gate."
iOS 12.0.1
Shortly after iOS 12 was released, people have started complaining about a charging issue that appeared on the iPhone XS. Apparently, the iPhone didn't not immediately charge when connected to a Lightning cable.
Although waking up the phone or disconnecting and reconnecting the cable fixed the issue, it was frustrating.
To fix this, Apple released iOS 12.0.1. The update is just over 100MB and fixes the iPhone XS charging issue.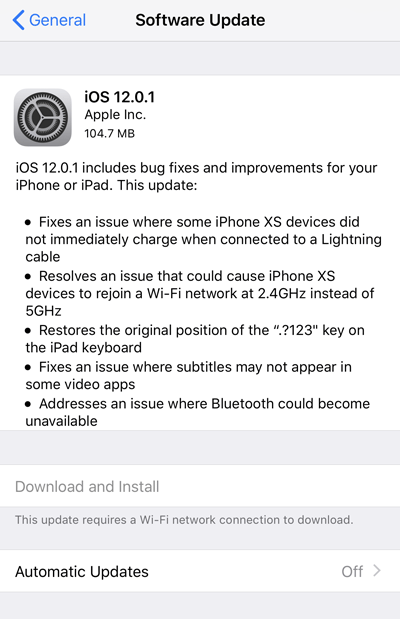 Apart from that, the update also resolved a Wi-Fi bug that causes the XS to reconnect to 2.4GHz instead of 5GHz, and restored the ".?123" key on the iPad keyboard.
Admittedly, the latter issue of the iPad keyboard caused some confusion on my part when I was using my iPad.
The update is now live and is now available for download by compatible iOS devices.