Xiaomi Philippines is joining in the 11.11 sales event, offering up to 58 percent discount on select smartphones and accessories.
The promo is available on both Shopee and Lazada's respective 11.11 sale events, and features popular Xiaomi smartphones such as the Mi 10T Pro, the Mi 10T, the POCO X3 NFC, and the Redmi Note and Redmi series, plus accessories like the Mi True Wireless Earbuds, Mi Smart band 4C, and more.
Below is the price list of selected Xiaomi products for the 11.11 sale event on Lazada:
ADVERTISEMENT
CONTINUE READING BELOW
Product Name
11.11
Special Deals
(Php)
11.11
Flash Price (Php)
Regular Price
(Php)
Mi 10T Pro (8GB+256GB)
23,990
—
24,990
Mi 10T (8GB+128GB)
19,990
—
20,990
Mi 10T (6GB+128GB)
17,990
—
18,990
POCO X3 NFC (6GB+128G)
11,990
—
12,990
POCO X3 NFC (6GB+64G)
9,990
—
10,990
Redmi Note 9 (3GB+64GB)
6,790
—
7,990
Redmi Note 8 (4GB+64GB)
6,290
—
8,990
Redmi 9 (4GB+64GB)
5,990
5,790
From 02:00 to 09:00
6,990
Redmi 9 (3GB+32GB)
5,490
5,290
From 02:00 to 09:00
6,490
Redmi 9C (2GB+32GB)
5,290
4,990
From 00:00 to 02:00
5,490
Redmi 9A (2GB+32GB)
3,990
—
4,690
RELATED: Xiaomi PH Mi Store: Here's the latest brochure for September – October
11.11 TikTok live with Xiaomi
Xiaomi Philippines is also going to host a live TikTok event on November 10 at 10PM, hosted by celebrity Rayver Cruz. During the event, Mi Fans and TikTokers will get a chance to win exclusive giveaways such as Mi 10T Pro, vouchers, and many more.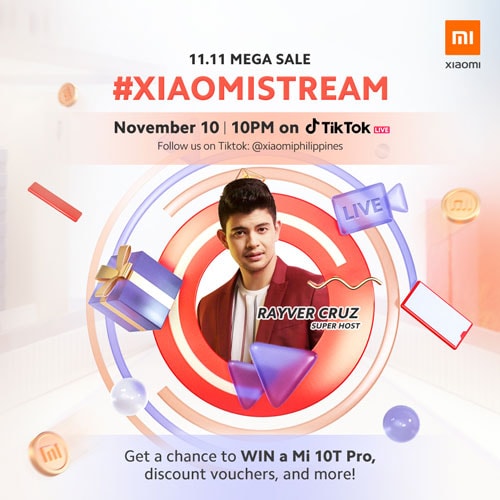 In addition, special deals on selected products seen below will be offered through the TikTok channel.
Product Name
11.11
Special Deals
(Php)
Regular Price
(Php)
Shopping Platform
Mi 10T (6GB+128GB)
17,990 +
1,000 off voucher
19,990
Lazada
Mi True Wireless Earbuds
499
1,199
Shopee
Mi Smart Band 4C
499
990
Shopee
Redmi Note 8 Pro (6GB+128GB)
7,990
12,990
Shopee