This is our review of the 55-inch Samsung TU8000 Crystal UHD 4K Smart TV.
Do you know that a good TV can actually help fend off boredom and cabin fever? With many of us spending many long hours at home due to COVID, the need for entertainment becomes even clearer and what better way to fend these off, than with one of Samsung's latest TV's.
Here, we have the Samsung TU8000 Crystal UHD 4K Smart TV for review. We tested it for a few weeks, and then I realized just how much I actually needed a TV like this.
Setup
Out of the box, the Samsung TU8000 Crystal UHD 4K Smart TV requires minimal setup. It is easy to assemble, no screwdriver or other tools needed. To start, just slip in the TV stands at the bottom corners and just simply plug in the power cord. You can then use the remote to connect the TV to your Wi-Fi network, but I suggest using the Samsung SmartThings app instead. The app gives access to a keyboard which makes entering Wi-Fi passwords much easier.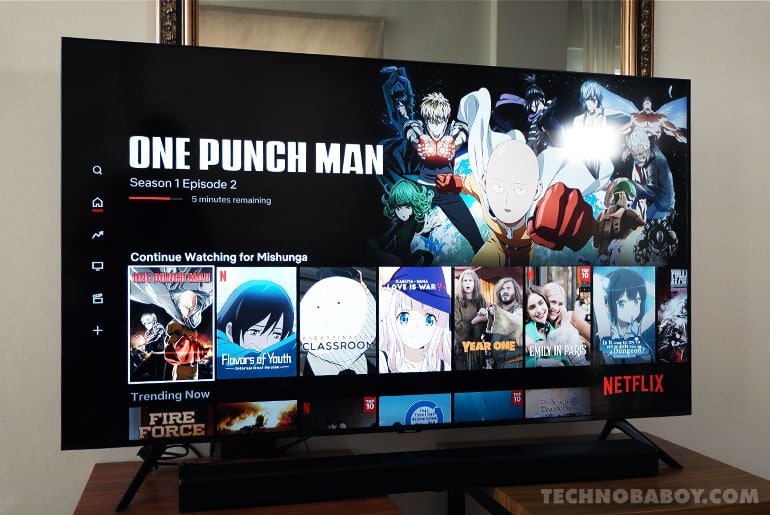 The TV set comes with cable management clips which attach itself to the back of the TV stands. It does a good job of keeping the power cable completely out of sight. Quite a nifty solution to keep the TV looking clean and uncluttered.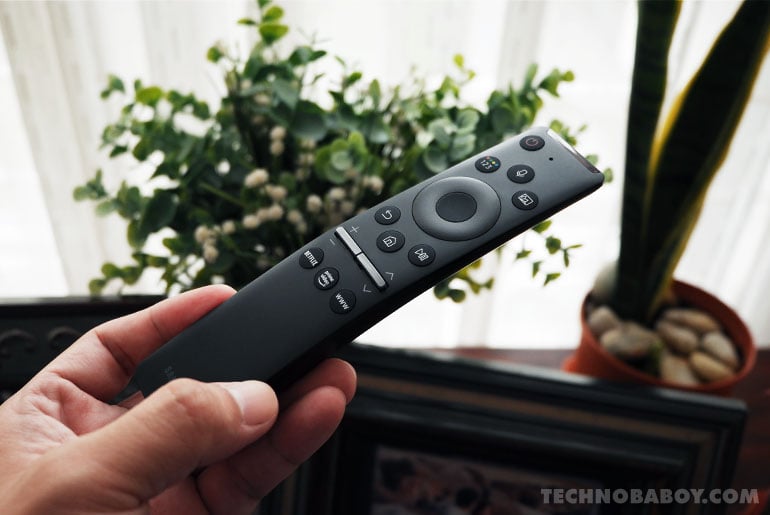 The TU8000 Smart TV comes with a small and sexy remote controller. Its sleek and slim minimalist design shows only the important buttons normally used when using the TV. What's extra nice is it also supports voice command you can use to look for online content, play a particular app, or even as simple as adjusting the volume.
Design and Features
The Samsung TU8000 Crystal UHD 4K Smart TV features a 3-side bezel-less design. The top, left and right bezels are narrow (almost invisible), which highlights the screen for a more immersive viewing experience. From the front, it looks very smooth with an attractive, unobtrusive design. It is every bit as premium as one would expect from Samsung.
The TU8000 runs on a Tizen smart TV OS, with an interface that is fast and intuitive. Installing apps like Netflix and HBO Go, among others, is easy and problem-free. The OS also allows quick connection to accessories via Bluetooth, like an actual keyboard for easier typing (it beats clicking on letters with the remote) and a soundbar.
One of the features I found particularly interesting is the TV's Ambient mode where you can display photos, background wallpapers, the weather, or even the time. During the TV's stay with me, I had an image of a painting which blended quite nicely with the rest of our house's interior design.
Another interesting feature is the Tap View, which lets you cast and share content, straight from your phone to the TV. It's easily done with the SmartThings app.
Display and Sound
True to its word of being a Crystal UHD 4K TV, its display comes with an impressive array of bright colors and deep blacks, creating very good contrast. Picture quality is likewise sharp and crisp, with little to no blurry images or artifacts. Ultra High Definition (3,840 x 2,160) content looks very good on the 55-inch. In fact, the TU8000 does a really good job of upscaling 1080p videos. I also noticed that anime (the newer ones) seem to look better and more vivid.
Though the TU8000 is not a perfect TV (there is no such thing) but it comes pretty close. Sometimes the brightness level seems lacking. To be fair, that can be due to several factors, including Internet speed and connection.
As for the TV's audio, the quality is fantastic, even without a soundbar. It's well-balanced and full. There is a good amount of bass and treble especially during dialogue scenes. Incidentally, the TU8000 also came with a Samsung soundbar connected via Bluetooth, which really brought home cinematic viewing to another level.
Wrap Up
At home, I more often than not reach for my phone or my iPad for entertainment, and rarely used the TV. But after I reviewed the Samsung TU8000 Crystal UHD 4K Smart TV, everything changed. It was there that I realized that I just did not have the right TV. And after seeing what it had to offer, it actually gave me a new perspective on TV's.
The Samsung TU8000 Crystal UHD 4K Smart TV is a great option for those who want to upgrade their viewing experience without breaking the bank. It has a lot to offer with amazing and useful features. Quite frankly, I feel that it is absolutely worth it for the price.
The Samsung TU8000 Crystal UHD 4K Smart TV is available in appliance stores nationwide. The 55-inch model, which we reviewed, is priced at Php 41,999, which you can get for Php 31,999 if you pay in cash.
Samsung TU8000 Crystal UHD 4K Smart TV Price
UA82TU8000GXXP 82-inches – Php 179,999 (Cash price: Php 149,999)
UA75TU8000GXXP 75-inches – Php 124,999 (Cash price: Php 99,999)
UA65TU8000GXXP 65-inches – Php 63,999 (Cash price: Php 49,999)
UA50TU8000GXXP 50-inches – Php 33,999 (Cash price: Php 25,999)
UA43TU8000GXXP 43-inches – Php 27,999 (Cash price: Php 22,999)
For more information, you may visit Samsung's online store.