You'd think companies have learned their lessons by now before posting anything on social media and then this happens. Samsung was caught using an iPhone to tweet about the Samsung Unpacked event.
The errant tweet was posted by Samsung Mobile US the day before the Samsung Unpacked event that saw the launch of the Galaxy S21 series.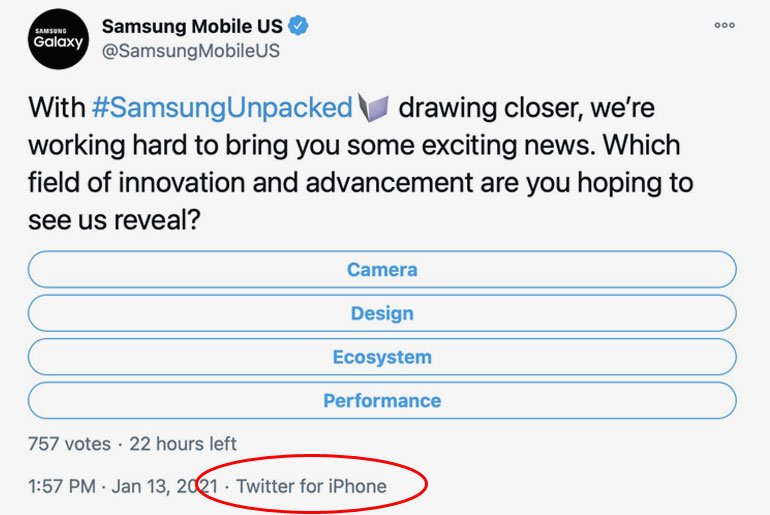 The tweet read "With #SamsungUnpacked drawing closer, we're working hard to bring you some exciting news. Which field of innovation and advancement are you hoping to see us reveal?" And at the bottom, you can see it reads "Twitter for iPhone."
The tweet has since been deleted, but not before someone noticed the mistake and screen grabbed the post.
Oops! Samsung just used an iPhone to promote tomorrow's Unpacked event for the upcoming Galaxy S21. pic.twitter.com/rvpGKhUjfu

— MacRumors.com (@MacRumors) January 13, 2021
Errors like this are common, especially among celebrity endorsers.
To be fair to Samsung, the errant tweet may have likely been caused by someone from 3rd party marketing agency used by the company. An organization as large as theirs often employ such agencies for their campaigns.
Still, its hard to let this pass considering that the tweet was about their latest flagship, promoted from a device its competing against.
Image Credit: Unsplash.com