TL;DR: The Huawei Band 6 can level up your home work out routine.
If you're at-home workouts have gotten stale, upgrading to better fitness tools like fitness trackers and health apps helps add a huge improvement and promise more positive results. The regular use of fitness tracking tools can boost your performance and make your goals achievable.
So, if you are new to this active lifestyle or finds indoor workouts boring, here are some tips from Huawei that you can try to boost your mood and get in shape.
Add unique style to your fitness routine, get the right Huawei fitness tracker for you
Fitness trackers like smart bands are wearable devices that are becoming more popular these days for good reasons. It helps motivate people to thrive in their workout programs and achieve weight loss.
This adds a unique style to your fitness routine because it comes with features you never thought you needed until you experience it. But if you are curious, how will you know what is the best smart band for you? Of course, you would need to consider battery life, display, workout modes, health monitoring features, and more.
ALSO READ: Huawei MateBook 2021 laptops with 11th gen processor, 16GB RAM available in the Philippines
To make your searching easier, Huawei recommends that you go for HUAWEI Band 6. It has the best features packed at a valuable price point. It has fast-charging 2-week long battery life, 24/7 automatic SPO2 monitoring for better health management, 1.47-inch AMOLED FullView Display, 96 workout modes, and works best with free and downloadable Huawei Health App.
When you are putting all your effort into working out, let HUAWEI Band 6 take care of the rest. Choose from up to 96 different exercise modes, and keep a track of your heart rate, calories, and more. All your data can be stored and analyzed in easy-to-read graphs, so you can chart your fitness journey and set goals that inspire you.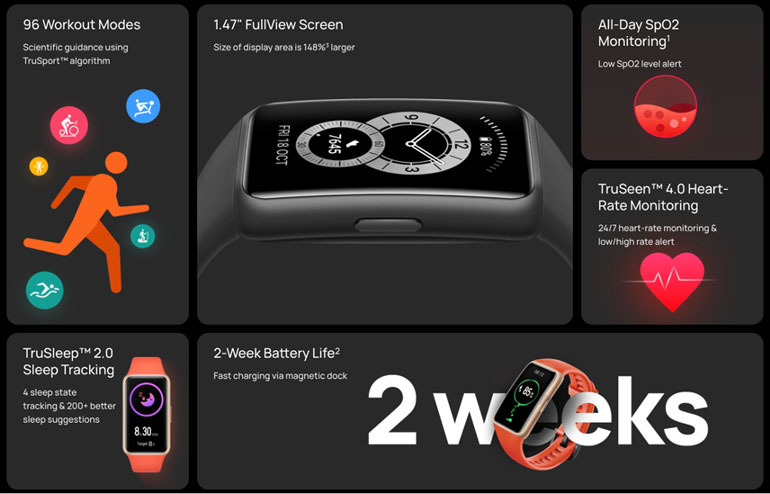 In terms of design and display, you have various colors to choose from – Graphite Black, Forest Green, and Sakura Pink. You can even have fun with a huge variety of watch face designs to choose from, accessible through the HUAWEI Watch Face Store.
Maximize the use of the HUAWEI Health App
Self-motivation is not enough, you would still need the HUAWEI Band 6 and HUAWEI Health App to achieve your fitness goals. The HUAWEI Health App is your go-to health and fitness companion that can provide you with detailed health data.
ALSO READ: Huawei launches the MateStation S in the Philippines, available for pre-order
Sync your Huawei Band 6 with HUAWEI Health app so you can track your heart rate, blood oxygen level, sleep quality, and other health stats throughout the day. Access everything in one app, with clear, easy-to-use graphs. You can even calibrate your stress level and take a stress test to better understand yourself.
The HUAWEI Health App supports HUAWEI and other Android or iOS mobile devices.
Pre-order HUAWEI Band 6
Pre-order for the Band 6 is from April 19 – April 29, which will also include limited-time Bluetooth speakers (worth Php 1,499) as freebies.
Customers can pre-order both devices online via the Huawei Store, Lazada, and Shopee, including a number of participating banks such as Unionbank, RCBC, Metrobank, BPI, BDO, and more.