Netflix is by far the largest streaming service with over 209 million paid subscribers in the first half of 2021. That's the reason why so many are tuned in, waiting for what's in store from the platform.
We're now at the tail end of 2021, and Netflix has released its list of shows for November. There are some notable shows coming this month that are worth looking into. The live-action Cowboy Bebop series is due in a couple of weeks, so is the Dwayne Johnson, Ryan Reynolds, Gal Gadot led flick Red Notice on the twelfth. Also coming is Arcane, an animation series based on the League of Legends.
Anyhow, that's just three from the lot. You can check out the November list below.
Netflix November 2021
The Harder They Fall (Film) – November 3
Gunning for revenge, outlaw Nat Love saddles up with his gang to take down enemy Rufus Buck, a ruthless crime boss who just got sprung from prison.
The Good Doctor: Season 4 – November 3
As COVID-19 creates a slew of complications, Shaun and Lea see their relationship put to the test, while Claire struggles with grief.
Love Hard (Film) – November 5
After meeting her perfect match on a dating app, an LA writer learns she's been catfished when she flies 3,000 miles to surprise him for Christmas.
Narcos: Mexico: Season 3 (Series) – November 5
As a new generation of cartel leaders vie for power, journalists hunt for truth while government agents walk a thin line between justice and corruption.
Father Christmas Is Back (Film) – November 6
Four feuding sisters get a crash course in family togetherness when their long-lost father shows up for Christmas at their posh ancestral manor.
Arcane (Series) – November 6, 13, 20
Amid the stark discord of twin cities Piltover and Zaun, two sisters fight on rival sides of a war between magic technologies and clashing convictions.
Passing (Film) – November 10
In 1920s New York City, a Black woman finds her world upended when her life becomes intertwined with a former childhood friend who's passing as white.
Love Never Lies (Series) – November 11
Six couples are subjected to an eye-scanning lie detector in this reality show where lies cost money, and truth and trust come with a juicy cash prize.
Red Notice (Film) – November 12
An FBI profiler pursuing the world's most wanted art thief becomes his reluctant partner in crime to catch an elusive crook who's always one step ahead.
Tiger King 2 (Documentary) – November 17
Didn't think there could possibly be any more twists and turns to this story? Tiger King returns with a second season that digs further into the mysteries, madness and mayhem that captivated audiences around the world.
Keeping Up with the Kardashians: Season 7 – November 17
The Kardashians return for another season of family drama that features surprising revelations, new careers and shocking encounters.
The Princess Switch 3: Romancing the Star (Film) – November 18
When a priceless Christmas relic is stolen, royal look-alikes Margaret and Stacy turn to audacious doppelganger Fiona — and her dashing ex — for help.
Dogs in Space (Kids & Family) – November 18
In the not-so-distant future, Earth's scientists send a fleet of genetically enhanced dogs to explore the galaxy in search of a new planet to call home.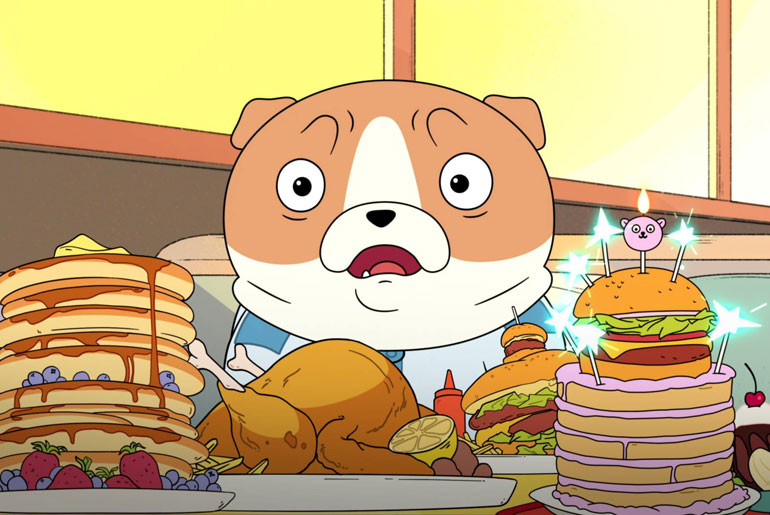 Cowboy Bebop (Series) – November 19
A ragtag crew of bounty hunters chases down the galaxy's most dangerous criminals. They'll save the world … for the right price. A live-action series.
tick, tick…BOOM! (Film) – November 19
On the brink of turning 30, a promising theater composer navigates love, friendship and the pressure to create something great before time runs out.
Hellbound (Series) – November 19
Unearthly beings deliver bloody condemnations, sending individuals to hell and giving rise to a religious group founded on the idea of divine justice.
Extinct (Kids & Family) – November 19
Two cute, fuzzy creatures accidentally time-travel to the future… where they're extinct! Can this doughnut-shaped duo save their species?
New World (Series) – November 20
In this reality show, six celebs strategize and sabotage to earn virtual currency they can cash in on the final day of their stay on a utopian island.
Masters of the Universe: Revelation: Part 2 (Series) – November 23
After a calamitous battle fractures Eternia, Teela and an unlikely alliance must prevent the end of the Universe in this sequel to the '80s classic.
ALSO READ: 12% VAT to be implemented on Netflix, Spotify and other digital services in the PH
Waffles + Mochi's Holiday Feast (Kids & Family) – November 23
Guests arrive at Waffles and Mochi's home to celebrate Freezy Day, the puppets' winter holiday. There's just one problem. Freezy Day doesn't exist!
A Boy Called Christmas (Film – Kids & Family) – November 24
Determined young Nikolas meets his destiny in a magical land inhabited by elves on a quest to find his father — and bring home the gift of hope.
True Story (Series) – November 24
A tour stop becomes a matter of life and death for a comedian when the fallout from a night with his brother threatens to destroy everything he's built.
A Castle For Christmas (Film) – November 26
When an American author tries to buy a castle in Scotland from a grumpy duke who's reluctant to sell, they both get more than they bargained for.
Netflix Pinoy Shows – November
He's Into Her: Season 1 – November 1
While attending a new school in Manila, a spunky teen clashes with a popular student, which soon leads to a series of pranks — and a romantic spark.
Yesterday Today Tomorrow – November 5
A powerful family's deepest, darkest secrets are revealed in the aftermath of a devastating earthquake, threatening to tear them apart.
I Am U: Season 1 – November 8
A chance encounter following the death of her sister leads Elise to invite her doppelgänger, Rose, into her life, but a party soon changes everything.
My Best Friend's Girlfriend – November 19
A man meets his best friend's girlfriend in an awkward but memorable encounter — then blackmails her into helping him make his ex jealous.
Desperadas – November 19
In search of answers on love and life, four half-sisters with different lifestyles help each other navigate relationships and personal hang-ups.
Desperadas 2 – November 19
In their ongoing pursuit of love, half-sisters Courtney, Isabella, Patricia and Stephanie land in new misadventures and uncover a shocking family secret.
The Woman in the Septic Tank 3: The Real Untold Story of Josephine Bracken: Season 1 – November 26
In this mockumentary, a seasoned but stagnating actor embarks on her grand plans to become a director, but encounters one major obstacle: her own ego.