Launched in the Philippines in May 2022, the Huawei Sound Joy is the latest Bluetooth speaker from Huawei. The device was co-developed with Devialet, a renowned global audio brand, and it features Devialet's audio technologies that promise to raise the bar regarding sound quality.
The Sound Joy is priced at P6,999 and is now available on the HUAWEI Online Store, Lazada, and Shopee.
Design
The Huawei Sound Joy is a thoughtfully designed speaker with a cylindrical body that has a height of almost 8 inches, weighing just 680 grams. It has a compact stature that is about the same size and shape as a small tumbler.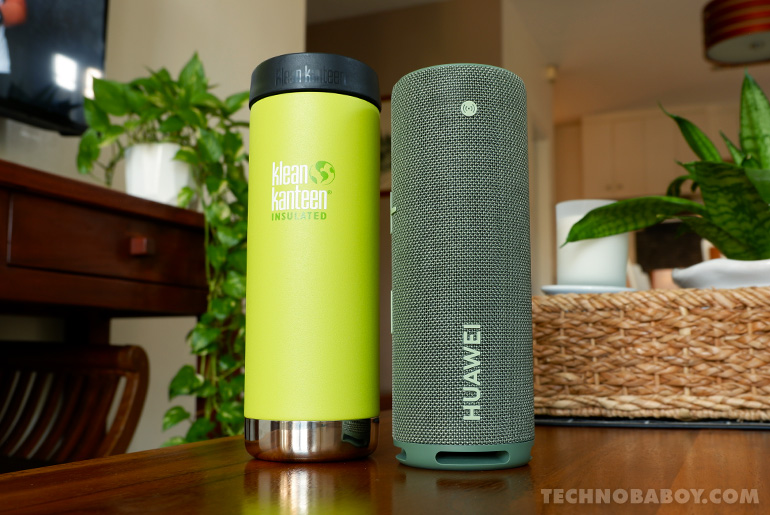 The speaker has a solid IP67 water-resistant build and tough construction, able to withstand scuffs and scrapes, varied weather conditions, and can even be submerged up to 1 meter underwater.
Covered with a woven fabric around a polycarbonate frame, the Sound Joy looks good and feels rugged. The bottom end has a rubber coating to keep it from sliding, while the top end has a ring of RGB light that pulses with a soft and pleasant glow. As an added bonus, the light also shows volume level and tracks battery life.
The Sound Joy can be used standing up or on its side. Personally, I like using it up because it takes less space on a table. When used on its side, the speaker has two rubber nubs along its body to keep it from rolling around.
The front side has the Huawei logo and the NFC sensor for quick connections. It has a strip at the back housing the control buttons, a notch for the hand strap, and a USB-C port for charging. It has huge plus and minus buttons for the volume controls, which need a little effort to press.
Performance
The Sound Joy features a Devialet 2-way speaker system, paired with the Devialet SAM technology. It combines a 20W full-range speaker and a 10W tweeter with two passive radiators.
Connectivity is via Bluetooth 5.2 and supports AAC and SBC codecs. You can link your device to it directly or via NFC. If you have a Huawei smartphone, tablet, or laptop, the speaker is auto-detected as soon as you turn it on.
Despite the cylindrical design, the Sound Joy is front-firing, meaning it sounds best when the side with the Huawei logo is facing the listener.
And speaking of the sound, this is one of the best you'll find for the price. Its sound quality is great. For a speaker this size, it has a full and rich sound with good bass and clarity. And it can get really loud, too. You can easily get by with less than half the volume, even in large rooms and open spaces. I don't recommend going at full volume, which introduces some distortions to the sound.
A feature I find interesting is that you can connect the Sound Joy to another Sound Joy speaker to form a stereo pair. Huawei says you can connect up to 100 more speakers. But I was able to test pairing it with one.
This is done by shaking the speaker. It looked silly but, hey, it works. And it sounds even better as a pair.
Also Read: Huawei P50 official in the PH: 50MP camera, 66W fast charging, HarmonyOS
And for those who plan to watch movies and shows with the Sound Joy as the main speaker, I'm happy to report that I didn't notice any discernable latency between the sound and the video.
Battery Life
According to Huawei, the Sound Joy's 8800mAh battery can provide up to 26 hours of battery life. During my time with it, I was able to get more around two weeks with one to two hours of use a day. Of course, you can get lower numbers if you listen to higher volumes, but for the most part, Huawei's claims are close to reality.
The speaker supports 40W fast charging, which is quite handy to have. It can give you an hour of battery life from a short 10-minute charge.
Final Thoughts
If you're in the market for a versatile wireless speaker, then the Huawei Sound Joy comes highly recommended. Its sound quality is really good and the battery life is long. But what I appreciate most of all is its compact size and rugged build, which are must-haves for those who like to bring their music with them when they travel.
The Huawei Sound Joy has a price of P6,999, available on the HUAWEI Online Store, Lazada, and Shopee.