The Lenovo Yoga 6 13ALC7 is the latest convertible laptop from Lenovo to enter the Philippine market. Powered by an AMD Ryzen 7 5700U, it features a portable design and a 13.3-inch touchscreen display. Moreover, it has the ability to switch from laptop to tablet mode.
Priced at P55,995, the Yoga 6 is one of the most versatile and full-featured laptops available in the market right now. Our choice of device will ultimately depend on how we use it. So is this the right one for you? Read on for our full review.
Design & Display
The Lenovo Yoga 6 is a portable 13-inch laptop, designed to be carried and used in different orientations. It measures 11.97 x 8.58 x 0.69 inches and weighs around 3.02 lbs. Its not the lightest laptop out there, but it is light enough that carrying it around or using it in tablet mode isn't that much of a burden.
The Yoga 6 has an ergonomic design, more so than most mainstream laptops. Its corners and edges are rounded. It looks like two tablets on top of one another. As for the build, you have an aluminum lid, while the main body is made from recycled plastic.
The laptop has two large hinges that support the display and connects it to the main body. It's sturdy and relatively firm, enough to keep it folded halfway for tent mode. You can also fold the laptop all the way back to be used in tablet mode.
During the review, I found the tent mode to be more useful than the tablet mode. It's not the most elegant way to use it, but it's great that you can if you need to.
The Yoga 6 comes with a 13.3-inch IPS display with a WUXGA (1920 x 1200) resolution with Dolby Vision support. It is surrounded by thin bezels, which help give the laptop a smaller overall footprint.
The screen has a glossy finish which allows for richer colors, but the trade-off is that it's more reflective. It is capable of up to 300 nits of brightness, which is about average, but it does a good job of keeping glare in control.
At the center of the top bezel, you have a 1080P webcam, which offers a better video call experience. It's a big step up when you consider most laptops come with only 720P webcams. It also has an IR camera as well that supports Windows Hello, and a privacy shutter, which you can just slide over to cover the webcam.
Under the display, you have the keyboard. Just below it, you have a fingerprint scanner and a spacious touchpad. The keyboard is backlit and typical of Lenovo in that it's great to type on. It has two 2W Dolby Atmos top-facing speakers on each side of the keyboard. The sound quality is above average. It sounds good in most cases, and it can get loud, but its quality suffers slightly on higher volumes.
As for the I/O ports, you have two USB-C 3.2 Gen 1 ports (PD, Display Port), an HDMI 2.0, and an audio jack on the left side. While on the right, you have two USB-A (USB 3.2 Gen 1), a microSD card reader, and the NOVO button.
Performance
The Lenovo Yoga 6 is powered by an AMD Ryzen 7 5700U with eight cores with a clock speed of up to 4.3GHz. Its paired with 16GB LPDDR4x RAM and 1TB SSD M.2 PCIe storage. It has an integrated AMD Radeon graphics, Wi-Fi 6, and Bluetooth 5.2. The laptop runs on Windows 11 Home.
Despite its age, the Ryzen 7 5700U is still a strong performer for most productivity use cases, such as office work, media consumption, and some image editing. I was using Adobe Photoshop quite a lot with it as my main machine, and I didn't feel any sluggishness nor did I feel it struggle. The fan did turn on from time to time, and it's quite audible. But I didn't find it distracting.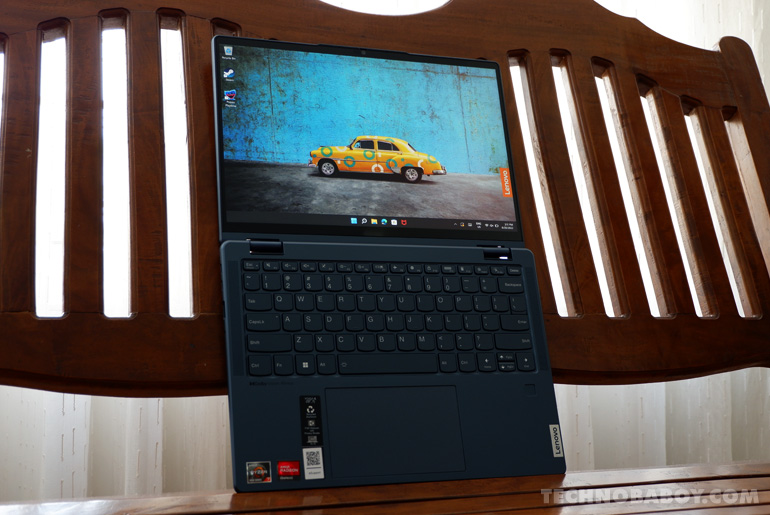 The Yoga 6 is also capable of light gaming. My son played Poppy Playtime on high graphics and it looked good. There was some minor stuttering, but it was very much playable. One thing, though, is to not expect too much when it comes to graphics-intensive games.
Battery Life
The laptop has an integrated 59Wh battery with a 45W PD USB-C adapter. Lenovo claims that it achieved 13.5 hours on MobileMark 2018 at 200 nits and 17 hours with local video playback at 150 nits.
Related: Lenovo launches Yoga 9i 2-in-1 laptop in the Philippines
During testing, I got around 7 to almost 9 hours of use with a heavy workload of writing, surfing the web, and editing photos. Charging from empty takes over 1 hour.
Final Thoughts
As a convertible, the Lenovo Yoga 6 offers versatility and portability, unlike any other laptop on the market. It comes with a host of enticing features, including a 13-inch touchscreen display with Dolby Vision, Dolby Atmos speakers, and decent battery life.
Under the hood, the AMD Ryzen 7 5700U is plenty powerful for most tasks, despite its age. The laptop doesn't have Thunderbolt ports, though, which is something you see on other laptops within the same price range.
Still, the Lenovo Yoga 6 has great value and a lot of upside for what its worth.
Price
The Lenovo Yoga 6 13-inch (13ALC7) is priced at P55,995. It is available on Lenovo stores and dealer partners, and online on Lenovo's website, Shopee, and Lazada.
Lenovo Yoga 6 13ALC7 specs
13.3-inch Touchscreen WUXGA IPS Display, 1920 x 1200, 300 nits, 100% sRGB, 60Hz, 16:10, Dolby Vision
AMD Ryzen 7 5700U, 4.3GHz Octa-core
AMD Radeon Graphics, Integrated
8GB / 16GB RAM, LPDDR4x
256GB / 512GB / 1GB SSD Storage
1080p FHD IR Hybrid Webcam with Privacy Shutter
Wi-Fi ax, Bluetooth 5.2
2 x USB-C (PD, DisplayPort, USB 3.2 Gen 1)
1 x HDMI 2
Audio Jack
2 x USB-A (USB 3.2 Gen 1)
MicroSD Card Reader
2 x 2W Top-facing Speakers, Dolby Atmos, Dolby Vision, Active Pen, Touchpad, Backlit Keyboard
Windows 11 Home
59WHr, 4 Cell Battery