If you are looking for a lightweight, portable, and wireless scanner that can handle various types of documents, you might want to check out the Epson WorkForce ES-60W.
This scanner is designed to make scanning easy and convenient, whether you are at home, in the office, or on the go. In this review, we will look at what it can do and who it is for. Let's go.
Design
The Epson WorkForce ES-60W is a compact and sleek scanner that measures 10.7 x 1.8 x 1.3 inches and weighs only 0.66 lbs. It can easily fit in a bag or backpack, making it ideal for traveling or working remotely.
The scanner has a simple and intuitive interface, with a power button, a Wi-Fi button, and an LCD screen that displays the wireless status and battery level. The scanner also has a single-sheet feed slot that can accept documents up to 8.5 x 72 inches, as well as ID cards and receipts.
The scanner can be powered by either a micro USB cable or a built-in battery that can last up to 410 scans per charge. It automatically detects whether it is in wireless or USB mode, so you don't have to switch manually.
Performance
The Epson WorkForce ES-60W is a fast and reliable scanner that can scan a single page in as fast as 4 seconds. It has a scanning resolution of up to 600 dpi and can produce clear and sharp images in color or grayscale.
The scanning speed depends on the resolution. The 200dpi and 300dpi scans take around 4 to 5 seconds while 600dpi scans take up to 9 seconds to complete.
It also supports duplex scanning, meaning it can scan both sides of a document in one pass.
The WorkForce ES-60W works with various devices, such as PCs, Macs, iOS, or Android devices. You can scan documents wirelessly using the Epson DocumentScan app or the Epson ScanSmart software for computers. The app allows you to scan directly to your device, while the software lets you scan to your computer or online storage accounts such as Dropbox, Google Drive, or Evernote. During testing, I scanned several of my own documents to save on my laptop and Android phone.
You don't need to download the software if you don't want to. The scanner is compatible with TWAIN drivers, which means it can work with virtually any software that supports scanning.
It also has an automatic feeding mode, which can combine multi-page scans into one file and automatically accept each new sheet as it is inserted.
Use Cases
Because of its versatility, the Epson WorkForce ES-60W is especially useful to those who need to scan contracts, invoices, receipts, business cards, photos, or more.
This leads me to believe that the portable scanner is for workers on the go or customer-facing staff like those in small offices and branches, or kiosks, such as salespeople or those with similar functions that need to scan documents on the fly.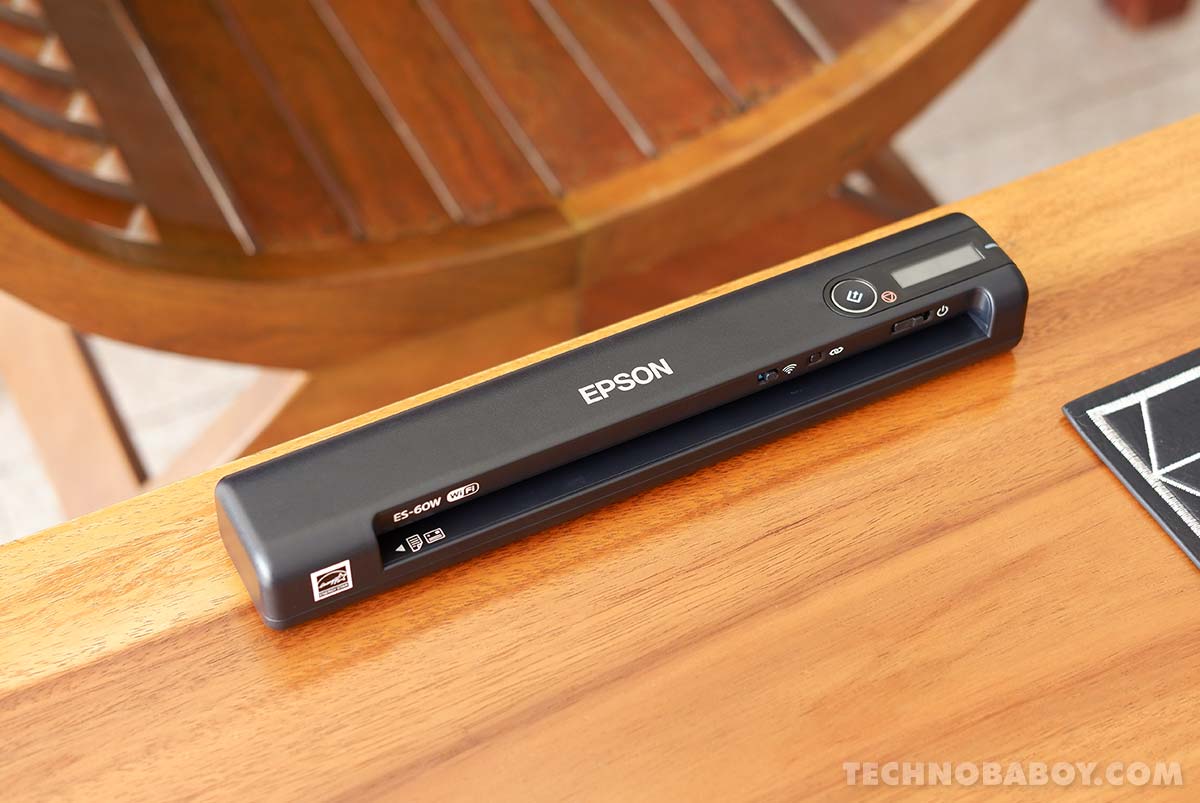 However, it can also be used in the following places:
Home: Scan personal documents, bills, tax forms, family photos, IDs, etc.
Office/Work: Scan work documents, application forms, reports, presentations, contracts, IDs, etc.
Travel: Scan travel documents, tickets, passports, IDs, etc.
School: Scan notes, assignments, handouts, etc.
Final Remarks
The Epson WorkForce ES-60W is a great scanner for anyone who needs a fast, portable, and wireless scanning solution. It has a compact and sleek design, a simple interface, and a fast scanning speed.
The portable scanner is ideal for office use, but it can also be used at home, for travel, or for school.
In the Philippines, the Epson WorkForce ES-60W is priced at P7,890. It is available in retail stores nationwide.