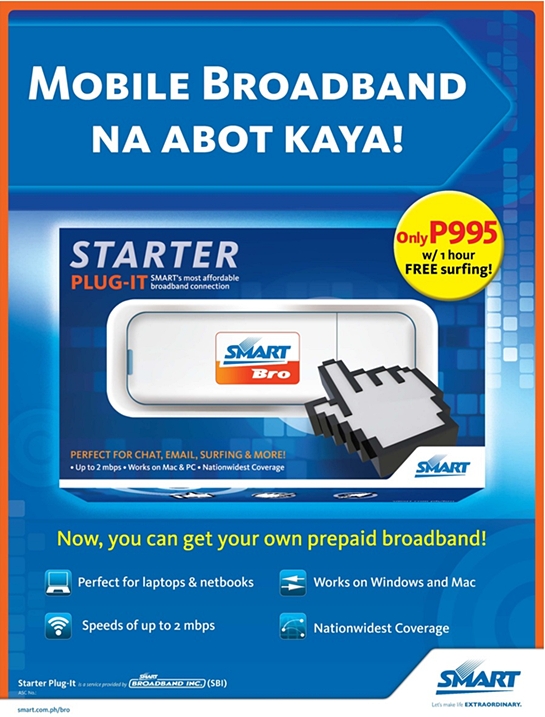 Prepaid internet dongles or broadband sticks are getting more popular these days because of their portability and ease of use.  Add to that the fact that it is prepaid so anyone can easily get one without the hassle of submitting application forms and supporting documents.  And if you belong to the budget-conscious lot, prepaid broadband sticks lets you control your usage and consumption.  It's not surprising, therefore, that networks nowadays offer all kinds of prepaid broadband sticks.
Owning a prepaid broadband stick used to be too costly but as networks compete for market share, they have gotten cheaper.  And the cheapest prepaid broadband stick to hit the market is the recently launched Smart Bro Starter Plug-It.  At only Php995, it is the most affordable prepaid broadband stick.  Ever.
The Smart Bro Starter Plug-It gives you internet speed of up to 2 Mbps and lets you enjoy Smart Communication's nationwide coverage.  The very affordable price of Php995 also gets you 60 minutes free internet usage.
Smart Bro Starter Plug-It Features 
One-time fee: P995
Speed: Up to 2 mbps
Usage fee: Pay per use (P10 for every 30 mins); option to get usage package  (Unlisurf, Per Minute, Prepaid Lifestyle)
Freebies: Preloaded with 1 hour (valid for 1 day)
Connection: via USB
Lock-in Period:  None
Application requirements: None
System requirements: Pentium III or higher, 512 MB of RAM or higher, Ethernet / LAN card, at least 10 GB of Hard Disk Space, USB 2.0, Operating System: Windows 2000, XP, Vista, Mac Osx 10.4 (Tiger), Leopard, Snow Leopard (I'm guessing the recently launched Mac OS X Lion as well)
I have tried broadband dongles from all local networks and in my experience Smart Bro has the most reliable signal.  So if you are a first-time broadband stick user, the Smart Bro Starter Plug-It is the cheapest choice out there for a prepaid broadband stick.
For more info on the Smart Bro Starter Plug-It, visit http://smart.com.ph/bro.