Soundfreaq is not a big name in the audio electronics market but with the kind of products it has released so far, it won't be long before this name becomes known to techies and audiophiles.  The item under review is the Soundfreaq Sound Platform, a speaker dock for Apple devices like the iPhone, iPod and iPad and all other A2DP Bluetooth enabled devices from other brands.  There are countless similar products out there right now but could Soundfreaq hold its own against them?  Read on to find out.
Specifications
Dimensions
Width: 11.8" (300mm)
Height: 5.9" (150mm)
Depth: 6.0" (151.5mm)
Speaker
2x 4 ohm, 2.75" full range drivers
Dual Chamber ports
UQ3 enhancement
Inputs
30 pin connector, universal well, supports all iPod and iPhone models
Aux in:  3.5mm line-in jack
Power:  20V = 3A DC input
Bluetooth
Tx Power: Bluetooth Class 2.0 + EDR
Range: 10m, 33'
Frequency Band: 2.4 GHz
Response Bandwidth: 20-20000 Hz
In the Box
The Sound Platform speaker unit
IR Remote Control
AC adaptor (Input: AC 100-240V 50/60Hz, Output: DC 20V = 3A)
Universal well dock
Universal well dock cover


Design
The Soundfreaq Sound Platform is not a fancy looking device.  Soundfreaq chose a minimalist design for this particular dock and I think it's a love-it-or-hate-it affair.  Personally, I like how it looks but others are more than welcome to disagree.  The Sound Platform is predominantly black with silver accents which blends well with Apple products. The housing has a piano black finish, something that makes this dock nice to look at.  Soundfreaq is in fact trying to achieve a retro look as evidenced by the silver and line accents at the back of the Sound Platform.
On the front, bottom part of the dock are the controls and of course the 30-pin connector.  To the left are three silver knobs that controls the UQ3 sound enhancement, bass and treble, which I find a little too tightly spaced. To the right are touch controls that cover volume, track skip, power, audio source and Bluetooth pairing.  There are quite a few light indicators, one just above the 30-pin connector, and one on the right side.  A small OLED display is positioned on the right side which shows the current source or connection. At the back of the dock are two ports, one for the power plugin and another for auxiliary input that supports standard 3.5mm jacks.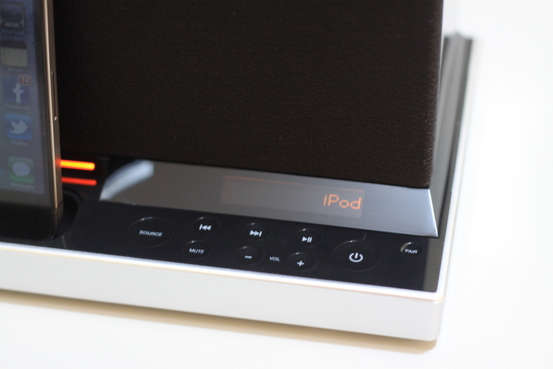 Soundfreaq has included a well-designed remote control which can be magnetically stashed away in the compartment found on the right side of the dock.  Included in the package are two dock adaptors, one for older iPhones and one for the slimmer ones, including the iPod Touch.  There's also a dock cover to protect the 30-pin connector in case you won't be using the Sound Platform by direct docking.
As to quality of materials used, I'd say it's mixed.  Some feel premium and high quality, some parts are too plasticky or flimsy. The silver accents give out the impression that it's all just paint coating.
Overall, the design of the Sound Platform is quite nice and you won't hesitate to show it off in your living room.
Features
Admittedly, this is one of the strengths of the Soundfreaq Sound Platform.  Soundfreaq was able to squeeze a lot of features into this dock you'll have a hard time looking for another dock that has all features of the Sound Platform similarly hosted in one package.  The Sound Platform supports several Apple devices, offers Bluetooth playback option, has OLED display and touch controls.  Bluetooth connectivity makes it possible to play audio from smartphones, laptops, tablets and even video players from other brands.
One other feature offered by Sundfreaq Sound Platform is a free app that can be downloaded to your iPhone or iPod touch.  I downloaded this app but i found its features pretty basic.  It has simple playback controls already found on the physical remote control and a playlist access which is already in the iPhone or iPod.  Still, the app is helpful if you prefer to have the controls in your phone instead of having to reach for the remote.
Performance
I'm rarely impressed by the sound of audio docks but with the Soundfreaq Sound Platform, one track was all it took for me to decide I liked the product.  It's not perfect by any means, but for its size, I was surprised to hear very good audio from this dock.  The Soundfreaq Sound Platform delivers very good bass response that's just too smooth and too powerful when the track requires it.  The bass quality is possibly the best feature of the Sound Platform.  I also like how crisp the sound is being delivered and how clear the vocal elements are being rendered.  It's really a pleasure to listen to tracks played on this dock.
As to power, the Soundfreaq Sound Platform can sufficiently cover a living room, possibly even a bigger area, without compromising the sound.  I played bass-thumping music on full volume and I didn't notice any substantial fall-off in quality.  One thing i noticed, though, is that low-frequency is somehow distorted at full volume.  I don't take this against the Sound Platform since I know it is meant to be played at medium volume.
The equalizer feature of the Soudfreaq Sound Platform is quite useful but at only 3 levels up and 3 levels down, it is quite insufficient if your needs require more.  There are simply some tracks that require higher equalizer adjustments.  I have played tracks that had too much bass and reducing it through the dock's bass knob was simply insufficient.
Bluetooth pairing was very easy as it doesn't require a password or pass key.  I was able to connect my iPhone to the Sound Platform without any issue.  As to sound performance on Bluetooth mode, I did not notice any falloff in sound quality, which is impressive since most speakers suffer a reduction in sound quality when in Bluetooth mode.
One of the unique features of the Soundfreaq Sound Platform is the UQ3 Spatial Sound Enhancement which creates a perceived bigger sound separation.  Being a compact speaker system, the two speakers are close with each other but with the UQ3, Soundreaq tries to deliver sound that imitates that delivered by bigger, widely spaced speakers.  Does it work? Yes, to some extent.  When the UQ3 is enabled through the dedicated knob, the sound is noticeably enhanced.  The UQ3 works on some tracks but I find it not too useful in most.  From my observation, the bass is automatically enhanced and nothing can be done to adjust the bass and treble levels since bass and treble controls are disabled in UQ3 mode.
Verdict
The Soundfreaq Sound Platform delivers good sound in a nicely designed package.  At only P9,950 this speaker dock is very versatile, with a set of features found only in more expensive audio docks.  It is therefore a very good option for those looking for a quality sound dock that doesn't cost too much.
Soundfreaq Sound Platform is available at these stores:
Beyond the Box
Digital Hub
Digital Walker
Gadgets in Style
Gui – Davao
Heima
iCenter Davao
iStudio
Mobile 1
Power Hub Davao
Power Mac Center
Switch
Technoholics
Xcite Mobile
Rating: 9/10