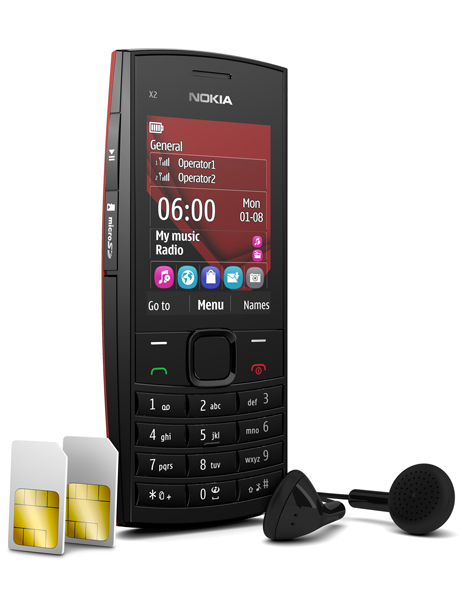 Nokia recently announced a new addition to its dual-SIM phone line-up.   The Nokia X2-02 is the newest handset to come out from the design lab of the Finnish phone maker and join the budget dual-SIM handset battle.
What does the Nokia X2-02 offer? It's being marketed as a music phone, so its advantage over other dual-SIM phones is the set of music features that it offers.  The Nokia X2-02 has an internal FM antenna, MP3 player, dedicated music keys, recording capability, built-in loudspeaker for music playback, and 32GB of memory space, which already lets you store about thousands of songs.  The handset also boasts of a "special audio processing feature" that promises "the clearest sound you'll find at this price".  It remains to be seen if this feature really works.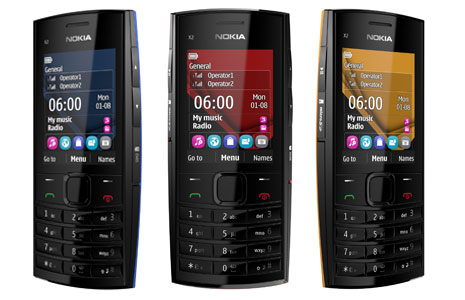 Still not impressed with the features mentioned above?  How about the addition of a "Play via Radio" feature which allows you to transmit and share individual playlists?  Sharing can be done over a music system, car stereo or another mobile phone.  According to Nokia, the X2-02 also has "a great music player and hi-quality FM radio recording" which lets you record and play content directly from the radio.
The dual-SIM feature of the Nokia X2-02 appears to be pretty standard.  It's the same Easy Swap feature already present in current dual-SIM Nokia phones which basically allows you to swap SIM cards without having to turn off your phone.  It's SIM manager can manage up to five SIM settings and give each SIM card a name.
Nokia also claims that the browser on the X2-02 is faster since it compresses web pages by up to 90%.  For social networking addicts, the Nokia X2-02 got you covered with dedicated Facebook and Twitter clients that you can launch directly from the home-screen shortcut bar.
Available colors are Bright Red, Dark Silver, Orange, Violet and Ocean Blue.  The announced price for the Nokia X2-02 is EUR 60.  This translates to about 3,500 in Philippine peso.  Release is in early 2012.
Nokia X2-02 Specifications
Display: 2.2 inches (240×320 pixels resolution)
Operating System: Symbian 40
SIM Tray: Dual-SIM (Easy Swap)
Storage: 32GB
Music Features: FM Radio, FM recording, dedicated music keys, built-in loud speaker, special audio processing, Play via Radio
Camera: 2 megapixels
Dimensions: 113 x 50 x 15 mm
Weight: 93g
Standby time: up to 18.5 days
Talk time: up to 9.7 hours
Intro video for the Nokia X2-02
httpvh://www.youtube.com/watch?v=Vwe6pMXL5jo