HP has several monitors in the market but the recently launched HP U160 is the first ever HP monitor to be USB-powered.  HP is not the first to come up with a USB-powered monitor but since HP is a huge brand, and therefore expected to be trustworthy, the HP U160 is something worth covering.
The HP U160 can be considered a travel monitor since the USB-powered operation makes it highly mobile and easy to lug around.  I can imagine this being used as an extra screen in presentations, or as external screen for devices such as smartphones or tablets.  The U160 therefore has a lot of potential, especially in business settings.   But, for the price of $179, is it worth considering as a separate purchase considering that there are tablets that can be bought for this price?  These tablets have smaller screens and if the purposes is to show something on huge yet still portable screen, the HP U160 is still useful and worth considering.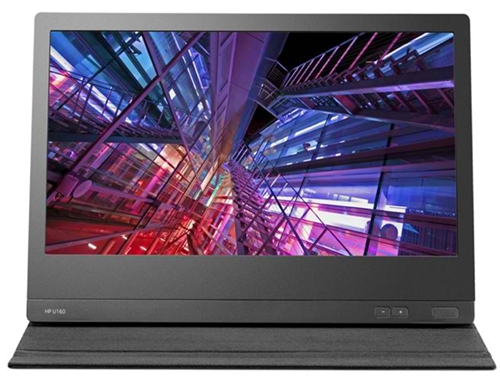 In terms of features, the HP U160 monitor sports a matte 15-inch screen with 1,366 x 768 resolution.  This is not HD quality but it should be good enough for general use.  HP did not reveal much in terms of the screen quality and specific details but it claims that the contrast ratio and brightness levels of the U160 are comparable to most notebook screens.
To make the monitor portable, HP included a built-in leather case which also functions as stand apart from being a cover case.  The weight of the HP U160 is a bit something to worry about since at 3.4 pounds, it's almost as heavy as a laptop. The thickness is at 1.2 inches so it's still quite thin for an external monitor.  The HP U160 will be available in the US starting this month.  No word yet as to its availability and pricing in the Philippines.