I've always liked the touch gestures on the MacBook.  If there's anything I wanted Windows laptops to have, it's the touchpad and the gestures available on Apple's laptops.  For a time I had a MacBook Air as my regular laptop and I have to say I was spoiled by its glass touchpad.  So when I reviewed the Logitech T650 TouchPad, I was really happy that there's finally something Windows users can use to make the experience MacBook-like.   The Logitech T650 is a wireless touchpad that is optimized for Windows 8 but also works well on Windows 7 systems.  Read the review and find out more about this computer peripheral.
Logitech T650 – Design and Features
Logitech has impressed me countless times and with the Logitech T650, my impression of the company as a maker of reliable and well-designed peripherals has been reinforced.   The Logitech T650 is a sleek, premium looking device that looks great from any angle.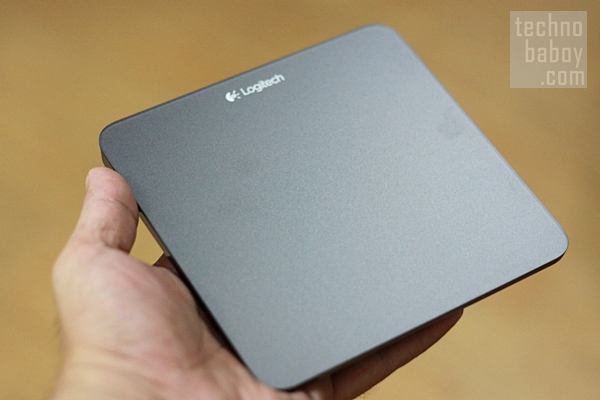 It's essentially just a square device with glass surface and a minimalist design overall.  The top has a dark gray finish while the underside is all black.  The touchpad is slightly sloping when you look at it from the side.
There's a power button on the side and a micro-USB slot on another side that functions as the charging slot.
The battery panel, on the other hand, can be found on the underside and there are also small rubber tips on the four corners that help hold the device in place.
The Logitech T650 is a wireless touchpad that works with Logitech's so-called Unifying receiver.  It's a USB nano-receiver that accommodates up to 6 devices so if you have Logitech-branded peripherals, you'll save space by just hooking them up using just one receiver.   The Logitech T650 is battery-powered, but it's built-in and rechargeable.  A single charge lasts for about a month in Logitech's estimates.
The Logitech T650's glass surface is large and smooth and Logitech proudly claims that it is embedded precision sensors and it's resistant to fingerprints and scratches.
Logitech T650 – Setup and Performance
Setting up the Logitech T650 is quick and easy.  You need only to plug the Unifying receiver in and turn on the power on the touchpad and you're ready to go.  However, you'll be prompted to download the Logitech SetPoint software and if you want to get all features of the Logitech T650, you need to download this software.
The Logitech t650 works on both Windows 8 and Windows 7 systems but since this is optimized for Windows 8, there are gestures that are present on Windows 8.  The touchpad has a total of 14 gestures on Windows 8 and a total of 10 on Windows 7.  For Windows 8 gestures, 13 can be customized using the SetPoint software.  Basic gestures include left and right click, vertical and horizontal scroll actions using two fingers, pinch to zoom, swipe actions for Windows 8 shortcuts, Windows 8 navigation using three fingers and swipe gestures using four fingers to resize or relocate active windows.
In order for you to get an idea about these main gestures, watch this video.
httpvh://www.youtube.com/watch?v=LubCO2eQSTU
Using the Logitech T650 is an excellent experience.  The glass surface is smooth so the fingers just glide through.  However, there is still enough traction so you have some sort of control in moving your finger around the surface.  The touchpad is also very responsive to touch so there's no issue when it comes to operating the Logitech T650.  Connection between the touchpad and the receiver is also strong it was like I was using a wired device.  There was hardly any noticeable lag in response.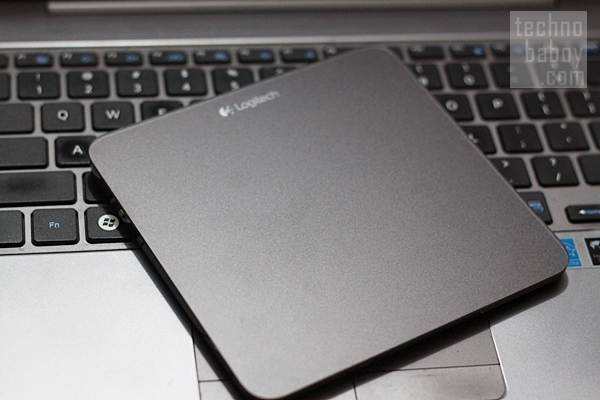 Gestures like swipe and pinch to zoom actions are some of the nice ones to use.  You'll also find out that these gestures are not limited to browsers.   They also work on some apps so you have to play around and discover for yourself if you get to use the Logitech T650.
Wrap Up
The Logitech T650 is an excellent computer peripheral if you're a Windows user.  Although it is optimized for Windows 8 use, it works well with Windows 7 as well.  In fact, there are only three gestures on for Windows 8 that are not present for Windows 7.  The Logitech T650 has a remarkable design and works well as a multi-gesture touchpad.   It has glass surface that's wide enough for a comfortable multi-touch operation.  It actually mimics the experience on Apple's MacBook air, which is something I know a lot of Windows users will be happy about.  Will this replace your trusty mouse when it comes to operating your computer or laptop?  The answer boils down to personal preference and the nature of work done.  For functions that need precise input, a mouse is still more reliable but for any other computer task, the Logitech T650 is a reliable input device.
The Logitech T650 Wireless Touchpad is priced at Php3,397 in the Philippines.  Look for it in gadget shops nationwide.
Rating: 9/10