Apple partner Power Mac Center recently launched the Microsoft Office 365 bundles in time for the coming holidays. The bundle lets you install Office on different operating systems, including OS X and iOS, using a single subscription.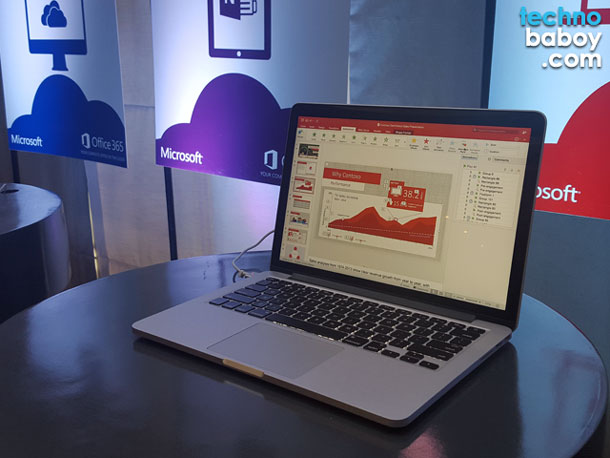 "Power Mac Center is truly committed to provide Filipino consumers the complete Apple experience. We are always looking for ways to support their needs, which is why we know that a lot of our loyal patrons have been anticipating the Office 365 for OS and iOS… Aside from familiar apps like Word, Excel, and PowerPoint, Office 365 has a lot of new and improved features like Skype, OneNote and OneDrive, optimized for OS X and iOS devices," said Joey Alvarez, Marketing Director of Power Mac Center.
Office 365 for Mac and iOS devices
The new Office 365 is a subscription-based, cloud-connected service that allows access to new versions of Word, Excel, PowerPoint, Outlook and OneNote. Files are synced across Macs, iPads and iPhones, allowing users to work on documents with one device, and then continue editing it on another. The subscription also comes with 1TB OneDrive online storage and  60 minutes of free Skype calls per month.
There are three types of subscriptions. Office 365 Personal can be installed on two devices (one OS X and one iOS device). Next is Office 365 Home, which can be installed on up to five OS X and five iOS devices. Lastly, Office 365 University can accommodate two OS X or iOS devices.
Price and Availability
Office 365 with Office 2016 is now available at all Power Mac Center branches nationwide. Those who purchase a Mac between December 1, 2015 to February 29, 2016 will get a special offer on the Office 365 Personal.
Office 365 is also available to those who already have Apple devices. Office 365 Personal retails for PHP2,730, Office 365 Home for PHP3,500, and Office 365 University for PHP3,360. Also available are the Office for Mac Home Student 2016 (priced at PHP 7,650), and the Office for Mac Home and Business 2016 (priced at PHP14,500). Office 365 needs at least 4GB RAM and at least Mac OS X 10.10.
For more tech-centric news and reviews, please follow us on Facebook (facebook.com/TechnoBaboy), and Twitter (@technobaboy). We'll do our best to keep you up-to-date.
Event Photos