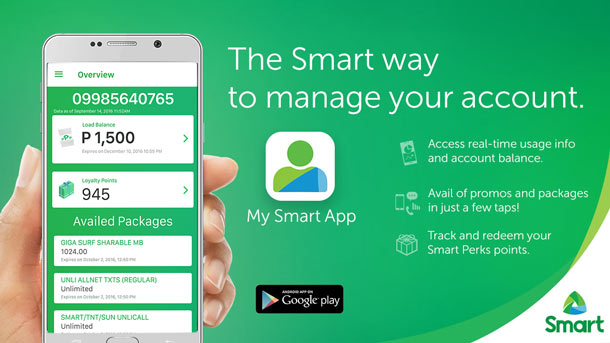 Guys, check out the new My Smart app. It lets Smart subscribers (like myself) manage accounts online for free!
My Smart App
The new My Smart app is not just for Smart postpaid subscribers mind you, it's also available for Smart prepaid (including TNT), Smart Bro postpaid and Smart Bro prepaid as well. Personally, I use it to manage not just my account, but my family's as well.
Postpaid subscribers can view their billing statements, check account details, and avail different call, SMS and data packages. While prepaid subscribers can check their load balance, avail different packages and purchase eLoad.
Here's a list of services you can avail using the My Smart app:
My Smart is available via Web, Mobile, and Mobile App (Android and iOS) allowing subscribers to manage all their Smart accounts in a single, unified app that is always on and free to use.
You can download the My Smart app on Google Play Store or the Apple App Store.
For more tech-centric news and reviews, please follow us on Facebook (facebook.com/TechnoBaboy), YouTube (TechnoBryan) and Twitter (@technobaboy). We'll do our best to keep you up-to-date.