The Huawei Nova 2i is turning out to be one of the best midrange devices available today. With a price of Php14,990, you get four cameras and a 6-inch display in a good sized body.
I've been using the Nova 2i for almost a month and, like my initial impressions, liked what I saw. Here is my full review of the Huawei Nova 2i.
Huawei Nova 2i Review:
The Huawei Nova 2i comes in a rectangular white box emblazoned with the phone's name in purple background on the front and the line "Huawei Design" prominently displayed on the sides.
The phone's retail package includes a travel charger, a micro USB cable, a headset, a SIM eject tool, a plastic protective case, and a pre-installed screen protector. As mentioned on my initial impressions, I love that Huawei includes these plastic cases and screen protectors. It's one less thing to worry about.
Protective Case scratches easily.
Also Read:
Design and Build
The Huawei Nova 2i comes with an aluminum unibody build coated in a gorgeous metallic matte finish. I love the feeling of the device on my hand. The solid construction lends to its premium feel usually found on more expensive devices. Plus you can tell that it's very well built.
The test unit that I have has an Aurora Blue color. If you're planning to get this phone, this is the color I recommend. It looks great.
On the top of the display you have the earpiece flanked by the soft light flash on the left and the dual selfie cameras on the right. The Nova 2i has no physical home button and uses soft navigation keys, and instead has Huawei's branding on the bottom bezel.
On the right is the volume rocker and the power button. Both feel have a resounding click when pressed. These are easily within reach of my index finger especially after I use it to unlock the phone via the fingerprint scanner. The left side has the SIM tray with the hybrid SIM/microSD card slot.
The back panel has the dual rear cameras, the LED flash, and the fingerprint scanner. You'll also see the antenna lines near the top and bottom. You'll also quickly notice the pronounced camera bump. It's not bad, but it would have been better if it's flushed flat on the panel.
The bottom has the mono speaker, the microUSB port, the audio jack and the microphone. There's a secondary microphone at the top which combines to produce stereo sound while recording videos. Both offer noise reduction.
Display and UI
The Huawei Nova 2i comes with a 5.9-inch FullView IPS display with a full HD 2160 x 1080 resolution and a pixel density of 407 ppi. Bezels are kept at a minimum with an 81.7-percent screen-to-body ratio.
The display is bright and vibrant with good colors. It is reasonably sharp, but it's not as crisp as I would have liked. Still, it's a small matter and probably not noticeable by some but nonetheless noticeable in my eyes. Regardless, I like the display and find it especially great when viewing photos and watching videos.
The display uses an 18:9 aspect ratio. As of writing, I found that some of the apps I use, and most of the games I play are not yet optimized to support the size. You'll quickly notice the "resize" option often showing up on the right side. When activated, some games will appear stretched or it will zoom closer to fill up the screen.
As a bonus, the phone comes with pre-installed screen protector. It makes the surface reflective, and attracts an irritating amount of dust and lint.
The Nova 2i runs on EMUI 5.1 based on Android 7.0 Nougat. The UI takes some design cues from iOS from the look of the icons, the colors used, and the arrangement of the settings menu. Nonetheless, it is pleasant to look at and the interface is clean.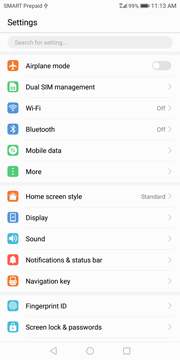 By the way, EMUI 5.1 uses Swiftkey Keyboard as the default keyboard. It also has Google's Gboard installed if you want to change it. But the default is good enough for me.
Performance and Benchmarks
I ran a few tests to see how the Nova 2i fares against benchmark apps. The phone is powered by a 2.36 Ghz octa-core HiSilicon Kirin 659 processor paired with a Mali-T830 GPU and 4GB of RAM.
During my initial impressions, I ran AnTuTu Benchmark once and got a score of 60,530 points. For the full review, I ran it three more times and got the following scores — 63,736 (1st run), 64,219 (2nd), and 64,159 (3rd).
I also ran Geekbench and 3DMark. On the former, the phone got a 912 on the single-core score, and 3,500 on the multi-core. On the latter, the phone managed 423 points on the Slingshot Extreme test.
Regardless of benchmark scores, the Nova 2i runs great. The device is fast and responsive, with no lag. One thing I noticed is that my test unit was too snappy during navigation. Animations look too fast. I'm not sure if all devices are like this but I found a remedy in case you want it slower.
This involves going to Developer Options so if you're not comfortable with it then I advise you to skip this part. I don't think you'll break anything by fiddling with the settings, but if something happens to your phone, don't blame me. You have been warned.
Go to Settings> About Phone and press Build Number multiple times until it says that the developer options are active. The Developer Options will appear on the main menu under Settings. Turn it on and scroll all the way down to Drawing. I suggest you ignore everything else. Under Drawing, set Windows Animation Scale and Transition Animation Scale to 1x. It will slow things down and make it appear smoother. If you don't like it, just turn off Developer Options and it will revert back to default.
Gaming
When it comes to gaming, the Nova 2i pretty much ran anything I threw at it, mostly without any issues. Granted some of the more demanding games needed more time to load, it still played with no glaring problems. The only time I experience some minor lag and slow downs was in Injustice 2.
The games I played on the Nova 2i include Marvel's Contest of Champions, Injustice 2, Minecraft, Lara Croft Go, Hungry Shark, NBA Jam, and N.O.V.A. Legacy.
Call Quality
Call quality for the Nova 2i is good. During testing, I was able to clearly hear the person I am talking to and vice versa. I didn't notice any problems on this aspect of the phone.
Camera
The Nova 2i's main features are its four cameras — two front-facing and two rear-facing. The rear cameras use dual 16MP + 2MP sensors. The two combine to render depth of field and create the much celebrated bokeh effect. It also comes with autofocus and an LED flash.
The front cameras use a combination of 13MP + 2MP sensors. The 13MP handles image rendering while the 2MP color lens captures the depth of field. It comes with a front firing LED soft light.
The rear cameras can produce good looking photos, especially in well-lighted situations. It resolves colors well and the white balance for the most part is spot on. In fact, I've always noticed that in most Huawei devices. They really do colors well. Photos are reasonably sharp and details look good.
In low light, things turn down a notch. Sharpness and details are not as good, and noise creeps in. Despite the setbacks though, photos that come out are still usable. And if most of your shots just end up on social media, then you're going to be fine with the setup.
Using aperture mode, you can adjust the aperture to create bokeh effects. You can have selfies with blurred backgrounds. The photos look good, but there are some cases the phone struggles which part to blur, especially if the edges look busy (like hair, or antennas, or such). It happens even to the P10 Plus. Best way to get around this is to make sure your subject looks neat with smooth edges (you know, not to busy backgrounds, neat hair, etc.).
The front cameras can also achieve the bokeh effect, although not as effective as the rear cameras. If it works, photos look great. If not, well, lets just say it's not as bad as I thought it would be. Again, if most of your selfies just end up on social media, then you're going to do fine with what the Nova 2i offers.
If shot in good light, you get a nice looking selfies with blurred backgrounds. Again, it has trouble at times (especially in low light) figuring out where the subject ends and where the background begins when it tries to blur backgrounds.
For those who truly enjoy taking selfies, the soft light flash is a boon. It's not overpowering and doesn't overexpose shots.
Both let you re-adjust the focus and aperture after the shot was taken through the edit menu in the gallery (providing you focused properly before taking your shots).
Here are a few more test photos.
Battery
The Nova 2i has a 3,340mAh non-removable battery. Its enough to last me a whole work day and then some. A typical workday for me involves calls, texts, browsing, some social media, watching videos on YouTube, setting it up as a Wi-Fi hotspot, and some light gaming.
Conclusion
I was really impressed with what Huawei has done with the Nova 2i, especially at this price point. For Php14,990, you get four cameras that performs well, an 18:9 5.9-inch full HD display, a metal unibody with an outstanding build quality, and reasonably good performance (including games). Let's not forget that you also get a free protective case and a screen protector.
Price and Availability
The Huawei Nova 2i has a retail price of Php14,990. It comes in Aurora Blue, Prestige Gold, and Graphite Black. It will be officially available in the Philippines starting October 21, 2017.
Huawei also included a great promo for the the Nova 2i. Those who purchases one on the first day of availability will also get a free JBL Flip 3 Bluetooth speaker worth Php6,495.
Huawei Nova 2i Specs:
5.9-inch Full HD IPS FullView Display 18:9 (1920 x 1080, 407ppi)
2.36Ghz Octa-core HiSilicon Kirin 659 Processor
Mali-T830 GPU
4GB RAM
64GB Storage +microSD
Dual 16MP + 2MP Rear Camera, f/2.0, AF, Dual LED Flash
Dual 13MP + 2MP Front Camera
Dual SIM
LTE
WiFi b/g/n
Bluetooth v4.2; BLE, aptX
GPS
Fingerprint Sensor (Back Mounted)
Audio Jack, Micro USB Port
EMUI 5.1, Android 7.0 Nougat
Colors: Aurora Blue, Prestige Gold, Graphite Black
3,340mAh Battery
For more geek-centric news and reviews, please follow us on Facebook (facebook.com/TechnoBaboy), YouTube (TechnoBryan), Twitter (@technobaboy), Instagram (technobryan), and Google+ (technobryan). We'll do our best to keep you up-to-date.