PayMaya is celebrating the Chinese New Year with a series of cashback deals. If you're planning to hop on the digital payment 'cashless' bandwagon, now is a good time.
First off, you can share your 'luck' with PayMaya's Digital Ang Pao. Through the app's Send Money feature, send a Digital Ang Pao to another PayMaya user and get up to PHP 200 cashback.
In fact, every time you participate in the Send Money promos, you can get rewarded with cashback.. You can get up to PHP 100 when you send at least PHP 200 every day and an additional PHP 100 when you send a total of PHP 10,000.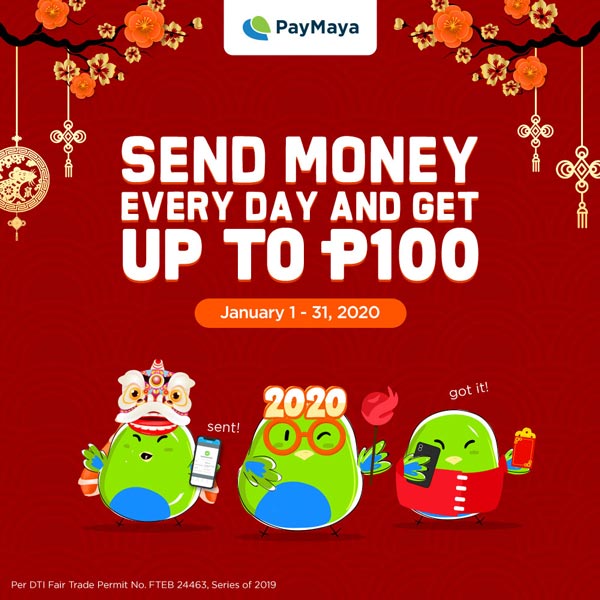 Next, you can also get cashback when you use PayMaya's Scan-to-pay feature. Using PayMaya QR, you can get up to 100% cashback on payments with partners such as Panda Express, East Asia Hotpot, Four Seasons Hotpot, Tong Yang, Mann Hann, and select Chowking branches nationwide.
On January 25 to 26, PayMaya will double your luck and give you two chances of getting up to 100% cashback when you shop or dineeat partner QR merchants. On top of that, you can get also an additional PHP 150 cashback when you spend an accumulated PHP 5,000. Not a bad deal if you ask me.
And finally, you can still enjoy up to 100% cashback when you use your virtual or physical PayMaya card online or in-stores. You can also get another PHP 150 cashback when you spend an accumulated P5,000.
PayMaya's cashback promos will run only until January 31, 2020. The PayMaya app is free to download on the Google Play Store or the Apple App Store.