Angkas has setup a new food delivery service, allowing their riders to earn extra income. Angkas Food, announced on their Facebook page, is now in operation.
According to Angkas, the new initiative is for the benefit of their riders, who will get the full commission for deliveries. The company itself will not earn from the service.
So, how does the delivery work? Angkas Food uses a slightly different model for deliveries, compared to the Grab Food and Food Panda. Here's how it works:
Call any participating restaurant to place your order. You can opt for cash-on-delivery or other forms of payment that the restaurant supports. They will also ask for your contact details.
A rider picks up the food and delivers to your doorstep.
Pay for the order (if COD), delivery fee, and parking fees (if applicable).
That's it. You're done.
The delivery fee is PHP 60 for 3 kms. An additional PHP 10 is added per km with a maximum of 5 km distance. For condos and buildings, delivery meet ups will be at the ground floor or lobby.
Also see: GrabFood, Foodpanda resume operations
Angaks also implemented a no-touch interaction to maintain social distancing. When the rider arrives, the items will be placed on the seat of the motorcycle or your doorstep. They will move back to a safe distance to allow you to collect your order.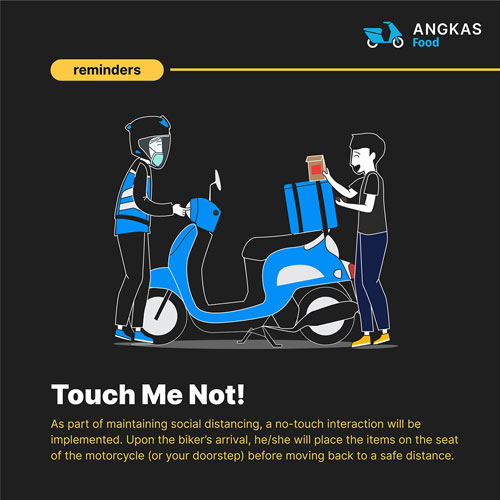 So far, Angkas Food has a modest list of restaurant partners, including Pomodoro in Kapitolyo, Crazy Bagnet in Cubao and Katipunan, and Mama V in Malate. The list will surely continue to grow once this quarantine period eases up. You can check out the full list of partners here.