Realme is set to bring their first smartwatch to the Philippine market. Aptly named Realme Watch, the wearable features a familiar square shaped design with a host of fitness features.
The Realme Watch will launch in the Philippines, together with the Realme X3 SuperZoom, on July 9, 2020 12NN via livestream.
Unfortunately, we have to wait till then to find out about price and availability details. But knowing Realme, though, we're expecting it to be very affordable.
Unboxed, hands-on review
The Realme Watch comes in a yellow retail box, which we now easily recognize as part of Realme's product line. The watch includes a magnetic charging cradle and warranty documentation.
Looking at the device, you can straight away tell where they got their design inspiration from. With its clean and curvy square casing, some may mistake the Realme Watch is for an Apple Watch or a Fitbit Versa.
Don't get me wrong. I find nothing wrong with that. In fact, it actually looks very smart on my wrist.
The watch is solidly built, despite having a plastic construction. It is also very light, weighing just 31 g, and very comfortable to wear. It does look small on though (especially on my wrist), measuring in at 36.5 x 11.8 x 256 mm.
You might also like: realme launches the Buds Air Neo, Power Bank 2, and Adventure Backpack in the Philippines
The Realme Watch comes with replaceable straps. It uses a single button clasp to secure. Its not something I'm used to, so I had a hard time putting it on at first. Its pretty secure though once its on, and stays there regardless of how heavy the activity you're doing.
The Realme Watch has a 1.4-inch touchscreen display with a 320 x 320 resolution. Colors look muted, but its decent and clear. It has good good visibility, even in direct sunlight.
There's a big bezel at the bottom of the screen. Its not a deal breaker or anything, but I wish they just used it to expand the screen real estate further. Anyhow, I'm assuming that some component is taking up that space.
You might also like: realme X3 SuperZoom unboxed, initial impressions
As a sports watch, it also offers IP68 water resistance, which means it can handle splashes and hand washing but not swimming and bathing.
The watch runs on Realme's own software. It comes with 14 sports modes, including outdoor and indoor runs, cycling, basketball and yoga.
It has a real-time heart rate monitor, with alerts you if it gets too high or too low. It also has a monitor for blood oxygen levels (SpO2), an intelligent activity tracker for walking and running, a sleep tracker, and, of course, smart notifications.
You might also like: Get the realme Band for P1,390 at Shopee
The watch can also double as a remote control for your phone's camera and music player. It works on the default camera and music app, including Spotify.
As for the battery life, the Realme Watch has a 160mAh battery which lasts between 7 to 9 days, depending on how active you are. I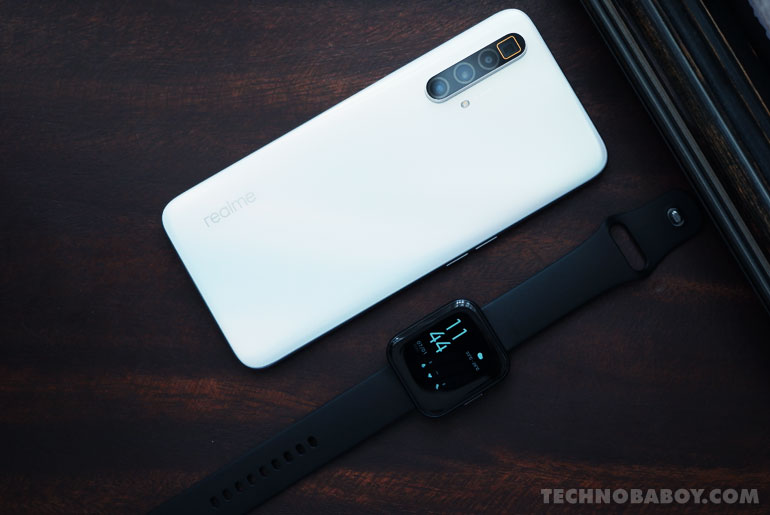 That's it for today's quick unboxing and hands-on review. The Realme Watch will on July 9, 2020 12NN via livestream. Be sure to follow Realme's social media accounts for updates.
realme Watch specs
Display: 1.4-inch Color Touchscreen Display, 320 x 320, Gorilla Glass 3
Connectivity: Bluetooth 5.0
Features: Intelligent Activity Tracker, Smart Notifications, 14 Sports Modes, Sleep Tracking, Music Controls, Camera Remote Shutter, IP68 Water Resistance
Sensors: Heart Rate, SpO2, Connected GPS
Battery: 160mAh Battery