Contactless payments take center stage in today's new normal of post quarantine and social distancing. To take this further, our government turned to PayMaya to power its own cashless payment system.
Paying taxes, remitting pension dues, and applying for business registration are just some of the day-to-day transactions you can pay through PayMaya's services.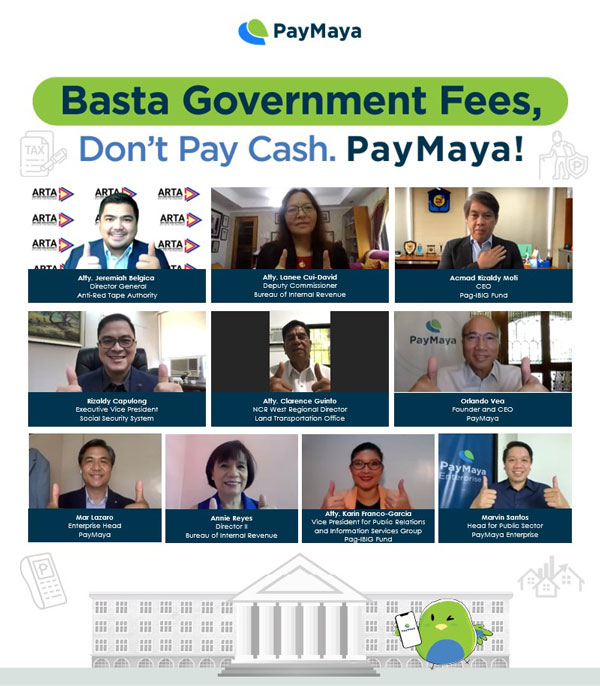 Recently, PayMaya added the Land Transportation Office (LTO), the Securities and Exchange Commission (SEC), the City of Taguig, the Intellectual Property Office of the Philippines (IPOPHL), and the Optical Media Board (OMB) to its roster of government partners that will be accepting cashless payments. 
These are in addition to the more than 50 government agencies and local government units (LGUs) that are already accepting card and e-Wallet payments for various transactions, such as the Bureau of Internal Revenue (BIR), the Social Security System (SSS), the PAG-IBIG Fund, the Bureau of Customs (BOC), the Department of Foreign Affairs (DFA), the Department of Trade and Industry (DTI), the Professional Regulation Commission (PRC), and the National Home Mortgage Finance Corporation (NHMFC), City of Valenzuela, Ormoc City, and Parañaque City, among many others.
By going digital and offering cashless payment options, the government is helping address our two most pressing issues today: ensuring the safety of all citizens and helping in the recovery of the economy. We at PayMaya are always excited to partner with agencies and LGUs to offer our solutions to enable them to offer better and more transparent services to the public. 

Orlando Vea, Founder and CEO of PayMaya
To encourage more Filipinos to use cashless means of paying their government fees and dues, PayMaya is offering a cashback on transaction fees when they use their PayMaya mobile number to pay in select online and mobile government channels until September 30, 2020. 
You might also like: PayMaya enables cashless payments for PH transport sector
Users can get a cashback voucher when they pay using their PayMaya-registered mobile numbers at the websites of the DFA, PRC, NHMFC, the Construction Industry Association of the Philippines, Taxumo, JUANTAX, as well as the mobile app of SSS.
All they have to do is choose "PayMaya" as the payment option and enter their registered mobile number. After the transaction, they will receive a cashback voucher in the app equal to the transaction fee collected by the agency. 
PayMaya provides millions of Filipinos with the fastest way to own a financial account with over 40,000 Add Money touchpoints nationwide. Its Smart Padala by PayMaya network of over 30,000 partner touchpoints nationwide serves as last mile digital financial hubs in communities, providing the unbanked and underserved with access to services.
For those who don't have their own PayMaya account, you can download the app for free on the Google Playstore and the Apple App Store.