Smart Communications makes the Smart Bro LTE-Advanced Pocket WiFi available to prepaid subscribers for PHP 1,995.
The device offers twice the speed compared to previous Smart Pocket WiFi devices.
Through Carrier Aggregation, the Smart Bro LTE-Advanced Pocket WiFi delivers significantly faster speeds. For those not familiar, Carrier Aggregation is a technique that combines more than one component carrier together within and across bands. Its similar to combining two or more highways to handle more traffic and use available capacity more efficiently.
The result is more data rates per user, reduced latency, and increased capacity for subscribers. This allows users to have deliver significantly faster mobile connectivity while connecting from home, at the office, or while traveling on the road.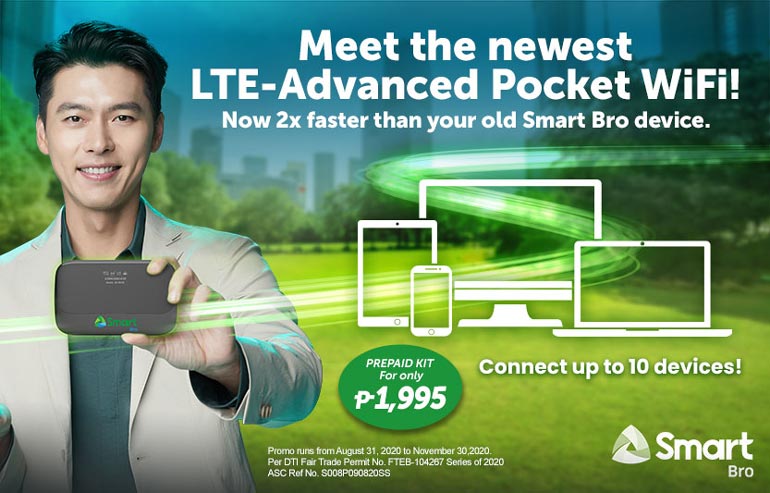 Smart Giga Pro
Subscribers can make the most of the Smart Bro LTE-Advanced Pocket WiFi with GIGA Pro, a bigger and better data pack that offers a combination of 3GB per day of any GIGA offer – whether it's Video, Study, Work, Games, or Stories – in addition to open access data.
GIGA Pro is exclusively available on the Smart App, which is downloadable on Google Play Store and the App Store.
You might also like: Smart reveals Free Games for All promo for mobile games
To avail of GIGA Pro, just connect your smartphone to your Smart Bro LTE-Advanced Pocket WiFi and then log in to the Smart App, which will automatically detect your account number. After that, tap the GIGA Pro offer you need.
Available nationwide  
The Smart Bro LTE-Advanced Pocket WiFi is priced at PHP 1,995, available on prepaid at Smart Stores, the Smart Online Store, accredited retailers nationwide, as well as the Smart Flagship Store on Lazada.
It is also available on postpaid plans starting at PHP 699 per month with a 12-month contract. All Smart Bro plans offer data rollover so that unused data from the previous month are carried over to the next month.   
For more information about Smart's promos and services, you may follow Smart's official accounts on Facebook, Twitter, and Instagram.