Huawei Philippines is set to debut their Huawei Store tomorrow, September 23, 2020. The online store offers a convenient, one-stop shopping solution, together with secure payment methods, fast and free delivery, and official premium service.
In addition, the Huawei Store also offers exclusive perks, including official warranty, product deals, seasonal promotions, flash sales, discounts, and more.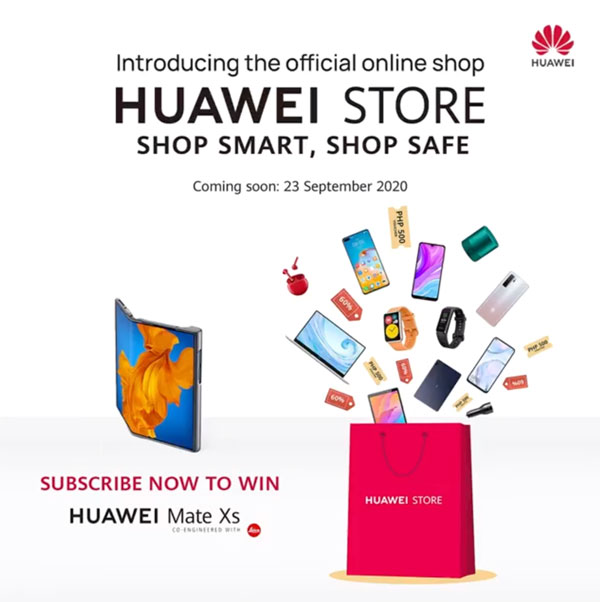 In fact, in the lead up to the Store's official virtual launch, you can subscribe to alerts early for a chance to win the Huawei Mate XS foldable phone. This event runs from September 16 to 22 as a standalone promo, and then as part of a teaser sale on September 23 to 29.
You might also like: Huawei PH to launch online store on Sept. 23; Subscribe to win a Huawei Mate Xs
As for the teaser sale, early birds can get bundles and discounts on the following products:
Everyday piso sale for selected products and Half price flash sale of Huawei Y5p
Buy the Huawei MateBook D15 (256GB) and get the Huawei MatePad T3 8.0 (worth Php 6,490) free
Buy the new Huawei Watch Fit and get the Huawei Band 4e (worth Php 1,390) free, as well as a sale for the Watch Fit's exclusive Cantaloupe Orange color
Exclusive discounts on the Huawei Y5p, Y7, nova 7i, MatePad T8, and MateBook D14
Then from September 30 onwards, the Huawei Store will provide another hard-to-resist offer:
Up to 60% off the latest Huawei Y8p
Up to 60% off on the Huawei band 4
Discounts for the Huawei Mate 30 Pro, Freebuds 3i, nova 5t, nova 7i, Matepad pro, Matebook D 14 and Matebook D 15 (512GB), Y5p, Y6p, and Y7
Moreover, getting the Huawei Mate 30 Pro, FreeBuds 3, and Watch GT2e as a bundle slashes PHP 16,000 off the total price.
Huawei Store exclusives also include several new and popular products such as the new Huawei Y8p, the Huawei MateBook D15 (256GB) in Mystic Silver, the new Huawei Watch Fit with PHP 500 off (includes store-exclusive orange color) from September 30 to October 10.
Be sure to visit the Huawei online store on September 23 when the deals go live.