Smart Communications has partnered with Viu to bring the new Smart GIGA K-Video to prepaid subscribers. It is the first data pack with a Viu Premium Subscription.
Apart from the new data offer, the telco also tapped Korean superstar Park Seo Jun as its new endorser.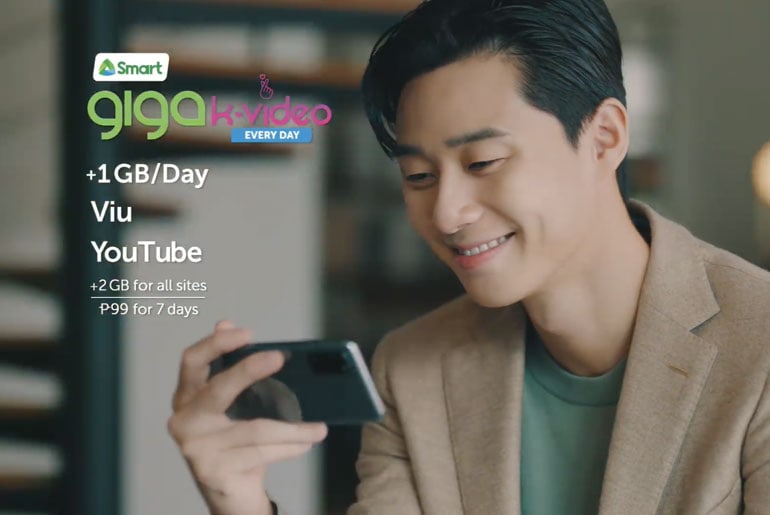 Smart's new Giga K-Video is available to all Smart Prepaid and TNT customers. The GIGA K-Video 99 data pack comes with a 7-day Viu Premium subscription, 1GB of data for Viu every day for 7 days, plus 2GB of open access data.
Subscribers can register by dialing *123#, choosing GIGA K-Video, and selecting their preferred denomination. The promo is also coming soon to the GigaLife App.
To learn more about GIGA K-Video please visit www.smart.com.ph and follow Smart's official accounts on Facebook, Twitter, and Instagram.
Smart GIGA Pro
Smart also announced the Smart GIGA Pro for prepaid, offering up to 114GB data. Available to all prepaid subscribers, the highest offer is GIGA Pro 999 which comes with a total of 114 GB data valid for 30 days for only Php 999. This is inclusive of 3GB per day of any GIGA offer for 30 days plus 24GB open access data, which subscribers can use for work or school as well as their daily dose of entertainment through online videos, music, and games.
GIGA Pro also comes in other denominations to give prepaid subscribers more flexibility when it comes to their data needs.
GIGA 199 comes with a total of 27GB data valid for 7 days, which is inclusive of 3GB per day of any GIGA offer for 7 days plus 6GB open access data. On the other hand, GIGA Pro 599 offers a total of 57GB valid for 15 days, which is also inclusive of 3GB per day of any GIGA offer for 15 days plus 12GB open access data.
To avail the new prepaid promos, Smart Prepaid subscribers can register to GIGA Pro via the new GigaLife App, which is available for download on the Google Play Store and Apple App Store. Customers can also register to GIGA Pro by dialing *123#, and choosing the corresponding promo.