realme Philippines starts 2021 on a high note by strengthening its support services, opening 8 new service centers to serve its customers across the country. The Philippines' number one smartphone brand now has 12 in total.
Each realme service center will have a capable team of experts to cater to the brand's growing customer base. Services offered by centers include on-site repair, non-repair services, main-in services, carry-in repairs, and preventive maintenance.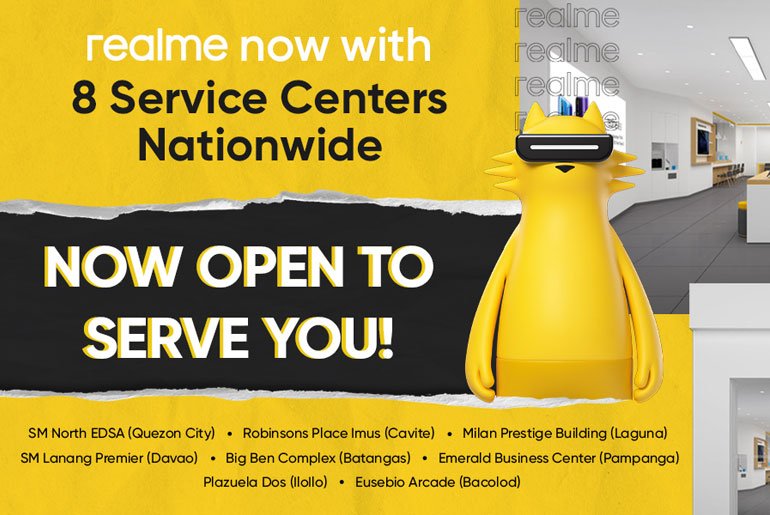 Fans and customers alike can have their realme devices checked at any of the eight new service centers: SM North EDSA – Quezon City, Milan Prestige Building – Calamba Laguna, Emerald Business Center – Pampanga, Robinsons Place – Imus Cavite, Big Ben Complex – Batangas, Plazuela Dos – Iloilo, Eusebio Arcade – Bacolod, and SM Lanang Premier – Davao. You can also check out the full details of what they offer by going to https://www.realme.com/ph/support.
Here's the full list of realme service centers nationwide, should you need to visit them.
List of realme Service Centers
Eusebio Arcade Bacolod – GF Door #4 Eusebio Arcade Lacson Street, Bacolod, Negros Occidental. Contact: 0977 652 4153
Landco Business Park Capantawan Legazpi – 3rd Floor T&M Chua Building, Landco Business Park, Capantawan, Legazpi, Albay. Contact: 0977 652 4153
SM North EDSA – 4th Floor Cyberzone The Annex SM City North EDSA, Quezon City, Metro Manila. Contact: 0956 174 0253
Robinsons Metro East Marikina – 3rd Level Unit 123-125, Robinsons Metro East, Marcos Highway, Pasig City, Metro Manila. Contact: 0977 652 4153
Calamba Laguna – Unit 204, 2nd floor Milan Prestige Building, Calamba City, Laguna. Contact: 0977 652 4153
Emerald Business Center Pampanga – 3rd Floor Emerald Business Center, Mac Arthur Highway, Dolores, City of San Fernando, Pampanga. Contact: 0977 652 4153
Plazuela Dos Iloilo – Unit 29 & 30A Ground Floor Plazuela Dos, Iloilo City, Iloilo. Contact: 0906 307 7943
Assada Center Dagupan – 3rd Floor Assada Center, A.B. Fernandez Avenue, Dagupan, Pangasinan. Contact: 0977 652 4153
Robinsons Place Imus – 3rd Level Unit 13-14 Robinsons Place Imus, E. Aguinaldo Highway, Imus Cavite. Contact: 0977 652 4153
RVMS Building Santiago – RVMS Building, Maharlika Highway corner Baptista Village, Villasis, Santiago, Isabela. Contact: 0977 652 4153
Big Ben Complex Batangas – Unit 19h, 2nd Floor Big Ben Complex, Lipa, Batangas. Contact: 0977 652 4153
SM Lanang, Davao City, Davao del Sur – 3rd Floor, SM Lanang Premier, J.P. Laurel Ave, Agdao, Davao City, 8000 Davao del Sur. Contact: 0956 170 5222
For more information on realme Philippines' after-sale services, please follow their official Facebook and Instagram accounts, or you may visit https://www.realme.com/ph/.