TL;DR: Here are the Netflix movies and TV shows for this month of April.
The first quarter of 2021 is almost done. Now that its finally April (with most of us quarantined at home), we have here the list of new movies and TV shows this month.
Check out the full list below and take note of those you want to watch.
Netflix movies and TV shows – April
Prank Encounters: Season 2 (Series) – April 1
Host Gaten Matarazzo pulls the strings on a new season of elaborate pranks involving everything from haunted mansions to ancient burial grounds. Yikes!
JoJo's Bizarre Adventure: Golden Wind (anime) – April 1
In Naples, Italy, the suspected son of Joestar family arch-nemesis Dio dreams of becoming a Gang Star so he can bring down the local mafia from within.
The Serpent (Series) – April 2
In the 1970s, merciless killer Charles Sobhraj preys on travelers exploring the "hippie trail" of South Asia. Based on shocking true events.
Concrete Cowboy (Film) – April 2
Sent to live with his estranged father for the summer, a rebellious teen finds kinship in a tight-knit Philadelphia community of Black cowboys.
Sky High (Film) – April 2
After falling for Estrella, Ángel, a mechanic from the Madrid suburbs, dives into a world of heists and becomes the target of a relentless detective.
Tale of the Nine-Tailed (Series) – April 3
A TV producer discovers a secret supernatural world as she becomes entangled with a former deity who's spent centuries searching for his lost lover.
The Last Kids on Earth: Happy Apocalypse to You (Kids & Family) – April 6
Help Jack and his monster-battling friends make choices to stay alive — and have some fun — in this interactive "Last Kids on Earth" adventure!
ALSO READ: How to use GCash to pay for streaming services like Netflix, YouTube, HBO GO, etc.
The Wedding Coach (Series) – April 7
Bridesmaids and in-laws and mason jars, oh my! Weddings are a beautiful cause for celebration, but planning one is far from a party. After barely making it down the aisle of her own wedding, comedian Jamie Lee is on a hilarious, heartwarming mission to help six engaged couples overcome the stressful real-life challenges that pop up before and on The Big Day.
The Big Day: Collection 2 (Series) – April 7
Time-honored customs marry with contemporary values — and of course, couture outfits — in this celebration of six more larger-than-life Indian weddings.
The Way of the Househusband (anime) – April 8
After disappearing from the underworld, the legendary yakuza Tatsu, "the Immortal Dragon," resurfaces — as a fiercely devoted stay-at-home husband.
Night in Paradise (Film) – April 9
Hiding out in Jeju Island following a brutal tragedy, a wronged mobster with a target on his back connects with a woman who has her own demons.
Thunder Force (Film) – April 9
Two childhood best friends reunite as an unlikely crime-fighting superhero duo when one invents a formula that gives ordinary people superpowers.
I Love You to Death (Film) – April 9
After vowing to wed one day, childhood sweethearts Gwen and Tonton reunite when she makes a wish that brings him back into her life — and back to life.
New Gods: Nezha Reborn (Film) – April 12
While living as an ordinary deliveryman and motor racing fan, Ne Zha encounters old nemeses and must rediscover his powers to protect his loved ones.
Love and Monsters (Film) – April 14
Seven years after he survived the monster apocalypse, lovably hapless Joel leaves his cozy underground bunker behind on a quest to reunite with his ex.
Law School (Series) – April 14
When a grim incident occurs at their prestigious school, justice through law is put to a test by a tough law professor and his ambitious students.
The Soul (Film) – April 14
While investigating the death of a businessman, a prosecutor and his wife uncover occult secrets as they face their own life-and-death dilemma.
Ride or Die (Film) – April 15
Rei helps the woman she's been in love with for years escape her abusive husband. While on the run, their feelings for each other catch fire.
Fast & Furious Spy Racers: Season 4: Mexico (Kids & Family) – April 16
When the Spy Racers are framed for a crime they didn't commit, they flee to Mexico to clear their name and uncover a new evil scheme.
Arlo the Alligator Boy (Film) – April 16
To find the father he never knew, optimistic Arlo leaves his swampy Southern home for New York City, making friends and dodging trappers along the way.
ALSO READ: Here are the Netflix plans in the Philippines
Shadow and Bone (Series) – April 23
Dark forces conspire against orphan mapmaker Alina Starkov when she unleashes an extraordinary power that could change the fate of her war-torn world.
Tell Me When (Film) – April 23
Workaholic Will puts his humdrum life in LA on hold to fulfill his grandpa's last wish: visiting Mexico City's most iconic sights and falling in love.
The Prenup (Film) – April 23
Wendy and Sean meet on a plane to New York City and fall in love. When they go home to the Philippines to get married, they find out that Sean's wealthy parents won't approve of the marriage unless the young couple signs a prenuptial agreement.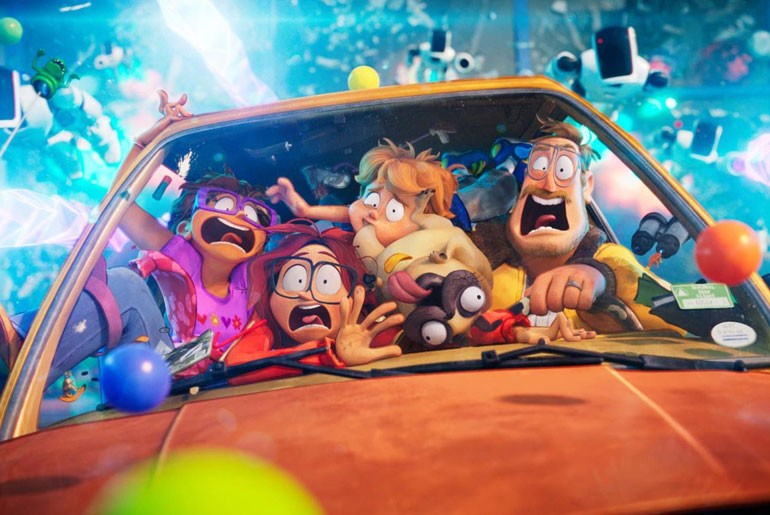 Things Heard & Seen (Film) – April 29
A Manhattan couple moves to a Hudson Valley hamlet and discovers that their marriage has a sinister darkness that rivals their new home's history.
Yasuke (anime) – April 29
He came from Africa and fought alongside a mighty feudal lord in brutal 16th century Japan. They called him the Black Samurai, and he became a legend.  
The Mitchells vs. The Machines (Kids & Family)  – April 30
In this animated comedy, the Mitchell family goes on a road trip only to find themselves in a tech war when their devices decide to take over the world.
The Disciple (Film) – Coming Soon
Self-doubt, sacrifice, and struggle converge into an existential crisis for a devoted classical vocalist as the mastery he strives for remains elusive.