We share our thoughts and experience on this review of the Huawei FreeBuds 4i.
With each new release, Huawei visibly and audibly improved the FreeBuds line. Its latest TWS in the mid-range space is the Huawei FreeBuds 4i, which packs active noise cancellation, a 10-hour battery life, and 10mm dynamic drivers.
We spent more than a month playing around with FreeBuds 4i to see how well it performs. And we're here to share why we think it offers great value for the price. Let's go.
Price
The Huawei FreeBuds 4i has a price of Php 3,599 in the Philippines. It is available on the Huawei online store, physical stores, and online market sites Lazada and Shopee.
Design and Features
The FreeBuds 4i are TWS in-ears with a long stem and silicone tips. Like I said, Huawei improved its design from the FreeBuds 3i. It is more streamlined with a rounded shape and smooth curves. Even the stem was redesigned, now sporting a thinner and angular profile.
The earbuds are very comfortable to wear, thanks to their shape. It also provides a snug fit that not only keeps them in place but also provides a good seal that blocks outside sounds.
The FreeBuds 4i is made of plastic with a glossy finish. Unlike other TWS within the same price range, these are leagues better with more impressive quality. It feels premium to the touch. But the material also makes the earbuds slippery, which you'll notice when taking them out of the case.
And speaking of the charging case, it has a new oval-shaped design with the same plastic material and glossy finish. It is small and compact with a solid build. You get an LED light for status notification at the front, a connection button on the right side, and a USB-C port at the bottom for charging.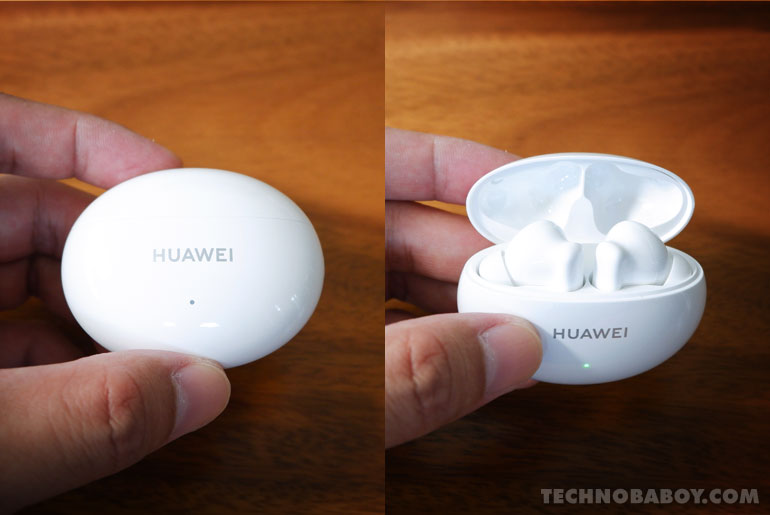 The FreeBuds 4i has touch sensors for basic controls. You can double-tap to play and pause music or answer calls. Long pressing will cycle through the different modes of ANC on, or ANC off, and Awareness.
ALSO READ: Huawei FreeBuds Pro review
I recommend you install the Huawei AI Life app. You can customize the controls to your liking. You can also update the firmware through the app.
The earbuds have wear-detection that pauses any media you are playing when you take them out of your ears and continues when worn again. It's a nifty feature that we rarely see in this price range.
To connect the Huawei FreeBuds 4i to compatible devices, press and hold the connection button until the LED turns white and starts to blink. Then go to your phone and proceed with the Bluetooth connection process.
Audio Performance and Battery Life
The FreeBuds 4i is powered by 10mm dynamic drivers with a polymer composite diaphragm. It connects using Bluetooth 5.2 and supports SBC and ACC codecs.
Audio quality is great for the price. The sound is balanced with good clarity. Highs, mids, and bass are well represented. The mids are pronounced, and the bass, while not booming, is adequate and does not overpower the rest of the audio.
The microphone quality is average. It's not bad, but not good either. Voice is discernable but needs more volume.
ANC is effective enough to reduce ambient noises. It easily drowns out the sound of air-conditioning, an electric fan, a car engine, or other rumbling and repetitive noises.
Each earbud has a 55mAh battery with the charging case providing 215mAh more. Huawei rated it to last up to 10 hours of music playback with ANC turned off, and 7.5 hours with ANC turned on.
ALSO READ: Highly regarded earbuds Lypertek TEVI available at Digital Walker
We didn't reach those numbers during our time with it, but it was close. Battery life was decent, and able to last a full day. I got 8 to 9 hours of use with ANC turned off, and over 5.5 hours with ANC on. I think you can realistically get 10 hours with lower volume levels and ANC off.
Charging the case to full took slightly more than an hour. There's no wireless charging, which is understandable considering the price.
Conclusion
It's surprising how much features Huawei was able to pack on the Huawei FreeBuds 4i.
For Php 3,599, these are a great value TWS earphones at the given price point. It is a good-sounding pair with a balanced sound signature, great battery life, excellent build quality, and ANC.
While some may lament the absence of wireless charging and additional controls, it's hard to argue for these considering the price. Besides, it does come with other features that greatly add to its value, such as the appealing design, wear detection and Huawei AI Life integration.
To close, we highly recommend the Huawei FreeBuds 4i to those who value audio quality and a little solitude and serenity when out and about.