This is our review of the Huawei FreeBuds Pro true wireless stereo earbuds.
Huawei has a great lineup of personal audio products. Chief among them is the Huawei FreeBuds Pro, the brand's premier TWS.
The FreeBuds Pro are priced at Php 7,999 in the Philippines and features a hybrid active noise cancellation (ANC) technology, an updated stylish design, and what many claim a great sound quality. But is it worth the steep asking price?
Well, that's what we're here to find out.
Huawei FreeBuds Pro review
Design & Comfort
Before you start, please check out our unboxing if you haven't yet. You can find it on this link.
The Huawei FreeBuds Pro is a soft-tip in-ear true wireless stereo earbuds with an angular tip and rectangular stem. The earbuds are made of great quality plastic with an IPX4 water and splash resistance certification. You'll know that they're premium as soon as you touch it. Every part of the earbud feels smooth to the touch, which no doubt adds to how comfortable it is to wear.
Audio controls are performed by squeezing the stems which responds with an audible click. A long press will cycle through ANC, awareness, and "off" or normal mode. A single pinch answers calls or plays/pauses music. Double pinch skips to the next song, while triple pinching goes back to the previous track. Apart from the pinch controls, you can also increase or decrease the volume by sliding your finger on the front side of the stem.
The controls are very convenient and it has better response times than touch-based earbuds. And the volume controls are definitely better than fiddling with your phone.
The FreeBuds Pro comes with a oblong shaped charging case of equal quality construction. It flips open with a premium feeling hinge. It charges via a USB-C port and supports wireless charging.
As mentioned above, the FreeBuds Pro are very comfortable to wear, thanks to how smooth its designed. There are no sharp edges and the round design of the earbud rests gently in your ears. It comes with three sizes of silicone tips (medium is installed by default). As you know, a proper fit is important given that it greatly affects sound quality.
Features & Audio Performance
The Huawei FreeBuds Pro are powered by 11mm dynamic drivers and connects to compatible devices via Bluetooth 5.2. The earbuds comes with wear detection, which pauses music playback when you remove them from your ears, and offers three modes — Noise Cancelling, Awareness, and Off — which you can cycle through by long pinching either stems. You also get audio and verbal cues, so you know exactly what mode you're on.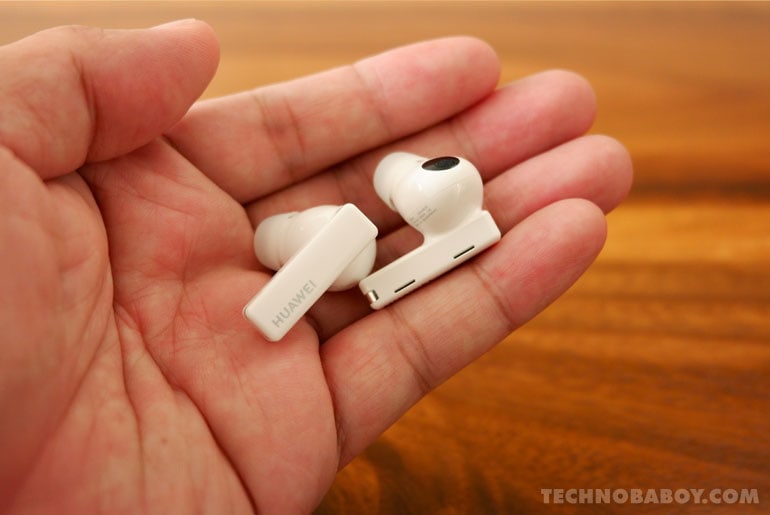 The earbud's hybrid noise cancellation works in conjunction with four microphones — two inward facing and two outward facing — that detect out-of-ear and in-ear residual noise, and then instructs the drivers to generate anti-noise frequencies.
To get the most out of the FreeBuds Pro, I highly recommend Android users to download Huawei's AI Life app. Here, you can adjust noise control, customize the pinch controls, perform fit tests, activate wear detection, use the Find My Earphones function, and update the earbuds firmware.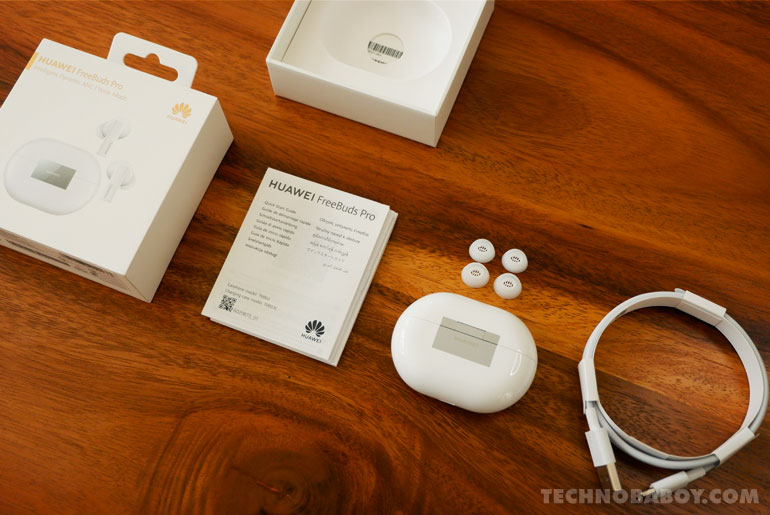 As for the audio quality, the FreeBuds Pro sound excellent. Most users will really enjoy how it sounds as the buds tend to favor the lower end. It has a warm sound signature with deep bass. Clarity and separation are also great, as do the mids.
One thing that stands out to me is how great these earbuds sound when listening to acoustic tracks.
The FreeBuds Pro offer three levels of noise cancellation. Take note that these settings are accessible through the Huawei AI Life app.
You have Cozy for places with little noise such as workplaces and libraries where most noises are paper flipping, typing, computers and the occasional conversations. Next is General, which is ideal for noisy places such as busy streets or crowded areas like cafes and noise. And then there's Ultra for extremely noisy places where you just want to lose yourself in the music without disturbances.
For the most part, ANC does a very good job of blocking out ambient noise. It can even block out wind noise through its wind proof design, making it an ideal earphone for running.
Battery Life
For the battery , each earbud has 55mAh capacity. The case has 580mAh capacity. It is listed to last up to 5 hours with ANC on and up to 8 hours with ANC off. With the case, you're looking at up to 30 hours with ANC off and up to 20 hours with ANC on.
During my review, I was able to numbers close to that if not a bit more while listening on at high volumes with ANC on.
The charging case charges via USB-C, but it also supports Qi wireless charging. It takes around 40 minutes to fully charge the earbuds from zero.
Verdict
Price and Availability
The Huawei FreeBuds Pro has a price of Php 7,999 in the Philippines. It comes in Ceramic White and Silver Frost, available at the Huawei Online Store or in physical stores.