Huawei Philippines launches two kids smart device for the local market — the Huawei MatePad T8 Kids Edition and Huawei Watch Kids 4 Pro.
Huawei MatePad T8 Kids Edition
The Huawei MatePad T8 Kids Edition is an 8-inch tablet specifically designed for children ages 3 to 8. It comes with an adorable Kids Case, stylus pen, and the Kids Corner default app that is pre-loaded with child-friendly content.
The MatePad T8 Kids Edition comes with a beautiful Kids Case made from environmentally safe silicone, offering all-around protection for both the device and your child. With a blue shell and green grips, it is comfortable and enjoyable to hold for small hands. The tablets also feature curved backs, giving them a delicate and rounded grip.
The bright blue stylus pen offers a more interactive experience for kids by enabling them to draw finer pictures on the tablet, as well as to enjoy themselves to the fullest when playing touchscreen games.
Both the Kids Case and the stylus pen meet the European Standards on the Safety of Toys and pass the Hazardous Substances in Electrical and Electronic Equipment (RoHS).
SEE ALSO: Looking for a laptop workhorse? Check out the Huawei MateBook 14 2021 AMD
The tablet features numerous safety features to give parents the ultimate peace of mind. Parents can manage time spent, apps used, and other viewable content on Kids Corner, allowing them to set multiple designated time limit intervals throughout the day.
In Kid's Profile, parents can also gain access to their children's usage records, allowing them to log their children's usage time and see the apps used over any given period.
Huawei tablets are equipped with a built-in gravity sensor that can determine whether the user is lying flat, with prompts to encourage them to adjust their posture accordingly. There is even an algorithm that detects when the tablet is shaking (such as when the user is using the tablet while walking or in a car), which can remind your child to use it in a stable state, therefore developing better eye habits. The Bumpy Road Alerts, Posture Alerts, eBook mode, and more can all be toggled on and off in Kids Corner.
The Huawei MatePad T 8 Kids Edition comes pre-installed with a wealth of rich educational content. For Kids Corner, Huawei has partnered with BabyBus and Azoomee, two of the leading educational developers creating apps for children. The tablet comes with a free three-month membership to Baby Panda World, and a free one-year membership to Azoomee.
This kids tablet comes with the third-largest app distribution service in the world, AppGallery; and mobile search engine Petal Search. AppGallery is the place to discover more Apps, Educational tools, and Games. The Petal Search app, on the other hand, brings an alternative search experience that aggregates information, delivering the most relevant results for users to enable them to fully personalize and manage their tablet experience.
Huawei Watch Kids 4 Pro
The Huawei Watch Kids 4 Pro features a vibrant and fluid design, integrating technology and premium materials to offer kids a fun and educational experience.
The kids smartwatch includes features like Huawei's own self-developed network positioning services. Thanks to the GPS, Beidou, GLONASS, A-GPS, WLAN positioning, base station positioning, indoor positioning, accelerometer-assisted positioning, and SOS camera-assisted positioning, the Watch Kids 4 Pro can accurately record location every 120 seconds. Parents will also receive notifications when their kids leave or enter the Safe Zone.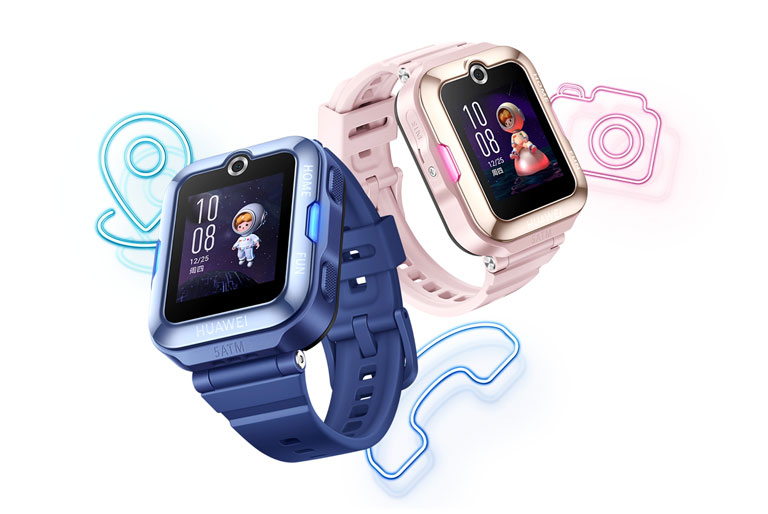 At the same time, the privacy framework of the Watch Kids 4 Pro is designed with reference to the EU General Data Protection Regulation (GDPR), enabling strict data encryption and privacy protection for kids.
In addition, with the 5MP front camera supports HD video calls using Huawei MeeTime. Users can make HD video or voice calls with contacts that own Huawei devices, such as phones, visions, and tablets.
The smartwatch is equipped with a 5ATM water-resistant design. Particularly, the buttons have a waterproof enclosure design that has passed strict waterproof tests. It is water-resistant up to 50 meters. It also provides a counting feature and one-min activity challenge for skipping rope, free skipping rope, and sit-ups. In addition, the smartwatch can track users' steps and provide a ranking which is helpful for kids to challenge themselves when they exercise.
Price and Availability
Huawei MatePad T8 Kids Edition: Php 8,999
Huawei Watch Kids 4 Pro: Will be announced soon
The Huawei MatePad T8 Kids Edition retails for Php 8,999. For the first or initial sale offer of the Huawei Mate Pad T 8 Kids Edition starting September 24 until October 1, 2021 via online Huawei Store, the following freebies worth Php 8,996 pesos will be bundled with the tablet:
Pen (Php 499)
Cover (Php 999)
Baby Panda (Php 759)
Lamp (Php 2,499)
Baby Bus App 3 month VIP (Php 450)
Azoomee APP 12 month VIP (Php 3,790)
The Huawei Watch Kids 4 Pro's availability details, on the other hand, will be announced soon so please stay tuned.