For budget gaming setups, a 1080p monitor with a 144Hz refresh rate is a great option, providing a good balance between a smooth experience and decent clarity and sharpness. There are a few good ones out there with an affordable price tag. And one such monitor is the Lenovo G24-20.
For Php 11,995, the G24-20 comes feature packed with a fast 23.8-inch IPS panel with 1080p resolution, 144Hz refresh rate (up to 165Hz overclocked), a 1ms response time, and AMD FreeSync Premium support.
We're here to take a look at what it offers and, of course, ask the question — is it worth our money? After a long look, our answer is yes. In this review, I'll talk about why you should consider the Lenovo G24-20 from the viewpoint of productivity and media consumption with a light sprinkling of casual gaming. Let's go.
Design and Features
The Lenovo G24-20 is a 23.8-inch monitor backed by an IPS display panel with a 1920 x 1080 resolution, 99% sRGB color gamut, and up to 350 nits of brightness. For gamers, the monitor features a 144Hz refresh rate (overclocked up to 165Hz), a 1ms response time, 0.5ms MPRT, and AMD FreeSync Premium Technology support to minimize screen latency and tearing.
In the box, the monitor comes with warranty documentation, a quick start guide, a power cable, and a DisplayPort cable. It doesn't need a power brick, which often takes up space. And with the DP cable, you can use the AMD FreeSync Premium features right away, should your hardware support it.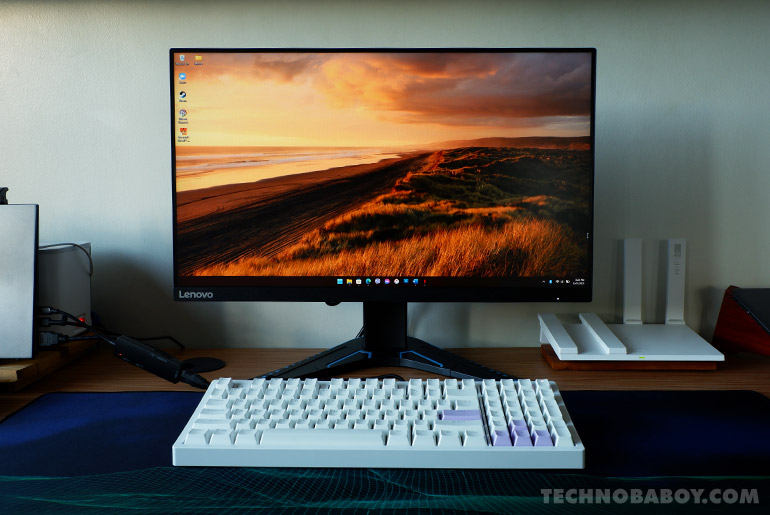 The monitor measures 19.46 x 21.25 x 9.24 inches and weighs around 5.30 Kg. Its overall design is clean and functional. It has a narrow top and side bezels, which gives it a much smaller footprint while at the same time providing a more immersive experience. While the thicker bottom bezel has the Lenovo logo and an LED status light.
The G24-20 does have some gaming aesthetic to signify its gaming roots. The v-shaped base is adorned with blue-colored patterns. The added detail is subtle and breaks the monotony of an all-black palette.
Controls and I/O ports are at the back. There are five buttons near the edge of the right side for power and OSD controls. While four downward-facing ports are at the center — two HDMI 2.0, one Display Port, and a 3.5mm headphone jack.
There are four buttons for the OSD. From here, you can adjust the brightness, contrast, and saturation, activate HDR and Freesync, as well as access other features such as Game Mode, Overdrive, and more.
Assembling the monitor is straightforward. Just attach the monitor itself to the stand using Phillips thumb screws. Then insert the base on the stand and secure using a screw. The VESA mount means you can use supported mounts to further enhance your desk setup.
As for the ergonomics, the Lenovo G24-20 tilts forward and back with a range of 5 to 22 degrees. The monitor height can also be adjusted down or lifted up to 130mm.
Performance
The Lenovo G24-20 has a fast IPS panel with good color rendition. It boasts a refresh rate of 144Hz (up to 165Hz overclocked), a 1ms response time, MPRT, and AMD FreeSync Premium Technology support.
It has great viewing angles and can get really bright offering up to 350nits. We can confirm the monitor's 144Hz and 165Hz refresh rates. It also has good color accuracy, covering 99% sRGB color gamut.
In gaming, the G24-20's features translate to an expansive and immersive gaming experience with clear visuals, smooth animation, and great colors. The high refresh rate is a boon to competitive gamers as well.
ALSO READ: Philips Monitors offers Xbox Game Pass to celebrate launch of Philips Momentum Designed for Xbox
For productivity, you can certainly fit two windows on the wide monitor or one large spreadsheet should you need it. I especially enjoyed working and writing in such a wide space. Editing photos and images are easier on a bigger screen. And should you need to stop and relax, the monitor also comes with an HDR mode, which lets you watch HDR content, such as those available on YouTube and Netflix's Premium Plan. To do this though, you need to connect a speaker or a pair of headphones.
Verdict
The Lenovo G24-20 is a good option for Php 11,995 for those looking for an affordable 144Hz gaming monitor. It offers an immersive and smooth gaming experience, as well as provides a good experience for watching videos and productivity and work-related tasks.
Its IPS panel provides a great experience with good colors and excellent viewing angles. Meanwhile, the 1ms response time and 120Hz refresh rate kick it up a notch for gaming. On the other hand, the size is great for those who work from home.
Price
The Lenovo G24-20 gaming monitor is priced at Php 11,995. It is available in retail stores, and online on Shopee and Lazada.