Huawei's P series has always set the bar high when it comes to smartphone photography. Its latest flagship, the Huawei P50 Pro, continues the trend, boasting powerful optics, top-end hardware, and an elegant design.
In true Huawei fashion, the P50 Pro is a powerhouse with the Dual-Matrix Camera at the top of its impressive spec sheet. On paper, it looks the part of a competitive flagship phone, even without Google. But, as always, we ask – how does it perform in real life? Let's dive in.
Design and Display
The P50 Pro follows a familiar aesthetic we saw on another Huawei handset, the nova 9. Here, we have a sleek design with a slim profile that's further accentuated by curved corners and slight slopes on the sides of the display.  
At the back, you have two large discs that make up the Dual-Matrix Camera setup. The handset has a mirror-like finish and gold accents which further accentuates its elegance and premium appeal.
The display is a 6.6-inch OLED panel with a 2700 x 1228 resolution, a punch-hole camera at the top center, and a host of screen technologies such as a 120Hz refresh rate, 300Hz touch sampling rate, and 1,440Hz high-frequency PWM dimming that helps reduce eye strain. 
The OLED display itself is exceptional with deep blacks and brilliant colors. It has good viewing angles with sufficient visibility outdoors. As you might expect with the high refresh rate and touch sampling rate, the UI handling is great with smooth animations and quick response times. The very narrow bezels also allow for a more expansive and immersive viewing experience.
Performance and Battery
Powering the P50 Pro is a Qualcomm Snapdragon 888 4G processor with an Adreno 660 GPU, 8GB RAM, and 256GB storage. It runs on EMUI 12 and packs a 4,360mAh battery with a 66W SuperCharge fast charging.
Yes, it only has a 4G chip as part of the US sanctions. And while it is unfortunate, you do get performance worthy of a flagship phone. The handset handles any app or game thrown at it with ease. Long loading times are far and few in between, while lags or stutters are non-existent.
AnTuTu – 564291
CPU – 143084
GPU – 210914
MEM – 111095
UX – 99198
AnTuTu (Performance Mode) – 677943
CPU – 124494
GPU – 288393
MEM – 127026
UX – 138030
Geekbench – 820 (Single-core); 2827 (Multi-core)
3D Mark – 928 (Wild Life Extreme); 3389 (Wild Life)
If you've used a Huawei device before, then you know what you're getting with EMUI 12. Just like any Android device, it is thoughtfully designed with a clean interface with several features baked in.
Also Read: HUAWEI nova 9 review: 50MP flagship camera, mid-range price
One such feature that I find very useful is its ability to easily integrate with Huawei's ecosystem of devices. I have a MateBook 14s laptop on hand that is easily paired with the phone via NFC with a simple tap on the touchpad. Once connected, I can perform a series of tasks, such as transferring files and photos across devices by drag-and-drop, navigating the handset, and initiating calls, among others.
Huawei AppGallery
As you may well know, Huawei phones do not have the Google Play Store. For apps, the handset has the AppGallery, the third-largest app distribution platform in the world.
Huawei's marketplace has over 500 million active users worldwide. It is getting better and better with new apps and games added daily. The platform is intuitive and easy to use. Installing and downloading an app can be done quickly with just a tap.
What's amazing is, that top apps are also readily available. To name a few, you can find TikTok, GCash, PayMaya, Shopee, Lazada, Smart GigaLife, Snapchat, Viber, Kumu, Viu, iQIYI, Vivamax, bilibili, banking apps like BDO, UnionBank, AUB, Landbank, Metrobank, Security Bank, EastWest Bank, and RCBC, and more, in the AppGallery.
As for Google apps, there are multiple ways to get them. The default email app takes care of Gmail, while others, such as YouTube, Calendar, Keep, and Maps can run on either GSpace or Huawei's Quick App Center.
GSpace is a third-party application that runs any app on a sandbox. This means Google apps such as the PlayStore, YouTube, and Gmail are installed on a contained space within the device. As an added measure, the apps "think" it is installed on a Huawei phone that natively supports Google apps, such as a P30 Pro. The process also applies to other apps, such as Netflix, HBO GO, etc.
The Quick App Center, on the other hand, is a type of installation-free feature. It runs Google services similar to a web app, but with the functionality and smooth user experience of regular apps. With the Quick App Center, the browser interface and navigation bar are hidden, essentially running the services like regular apps. It also has its benefits, such as a much smaller size and speedy updates.
Quick Apps can be accessed via the AppGallery, the Quick App Center, and Petal Search. You can identify it via the lightning icon.
Camera
The strength of Huawei's P series phones has always been its cameras and the P50 Pro is no different. The latest flagship is the culmination of the company's refined expertise in photography, combining top-of-the-line optics and state-of-the-art algorithms.
The phone features Huawei's True Form Dual-Matrix Camera System comprised of two rings that group the cameras into the Main Camera Matrix with the 50MP main, 40MP monochrome, and 13MP ultra-wide cameras: and the SuperZoom Matrix with a 64MP telephoto camera. 
Before we go into the cameras themselves, let's first talk about what makes the True-Form Dual-Matrix Camera System so special. Its true strength lies in how it integrates with Huawei's XD Optics, True-Chroma Image Engine, and XD Fusion Pro image engine to process image signals.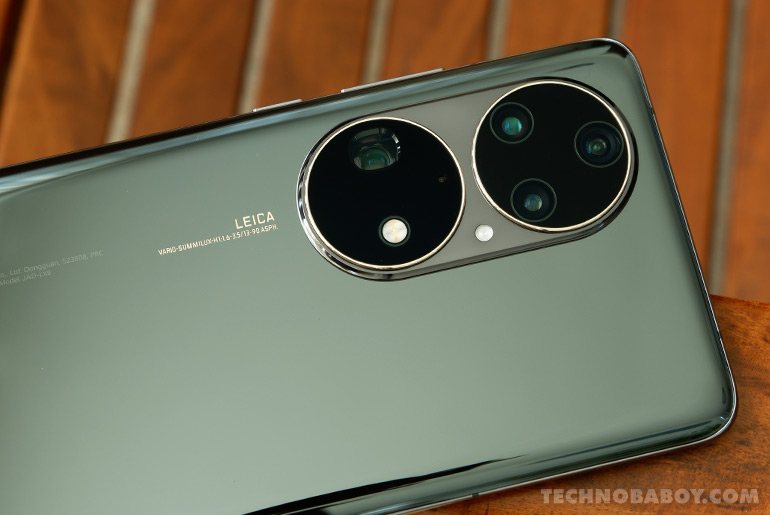 Huawei's XD Optics is a revolutionary photography technology that shortens the gap between traditional cameras and smartphone cameras. It corrects optical errors and restores details, acting as a bridge that connects the real world with the imaging system, and the imaging system with the background processing algorithms.
To facilitate this, Huawei uses a Full Path Imaging Process, where more processing layers are added to the whole image processing track to create better photos. 
In most cameras, image processing usually starts when you tap the shutter button. Image information moves from the optical system to the CMOS sensor, to the Image Signal Processor (ISP), then applies computational photography before the final image is produced.
In Huawei's Full Path Imaging Process, image information initially follows the same path from the time the shutter button is tapped and sends image information from the optical system to the CMOS sensor. From here, the XD Optics comes next, applying its corrections and algorithms, then moving on to the XD Fusion Pro (which incorporates True-Chroma Image Engine, Super Color-Filter System, and Super HDR Technology) before the final image output.
Also Read: Huawei MateBook 14s Laptop+ vs MacBook Pro 13-inch M1; How do they differ?
Through this process, an additional 30% more image information is restored, resulting in more accurate colors and more details for true-to-life images.
Moreover, the phone also has True-Focus Fast Capture, a feature that allows for high-speed autofocus, with a zero-latency shutter, smart metering, and motion blur reduction.
Main Camera Matrix
The P50 Pro's 50MP Color and 40MP Monochrome True-Chroma Cameras take in a staggering 103% more light compared to its predecessor. Here, the monochrome sensor provides additional information to further refine details, control image noise even in low light, and assist in-depth estimation to provide a good separation between the foreground and background.
The resulting images are sharp with good contrast, accurate colors, and a wide dynamic range. The cameras can capture and preserve a lot of details with little to no noise. The same is true of various shooting conditions, be it indoors or in high contrast environments such as when shooting against the light. 
In indoor shooting, the P50 Pro does a good job of exposing the subject with excellent dynamic range, resulting in good color preservation and detail.
In high-contrast situations, you can still take good shots. Details are again well-preserved with good color performance and contrast. Even photos of clouds, where it often becomes blown out. You can see the details and colors.
The sample photos below give you a glimpse of what the P50 Pro is capable of.
The third camera on the Main Camera Matrix is the 13MP ultra-wide. It not only has a wide field-of-view, but also a wide dynamic range. More details, again, are captured with minimal distortion and good colors and dynamic range. The lens also doubles as a 2.5cm macro camera.
SuperZoom Matrix
The SuperZoom Matrix has a 64MP periscope telephoto camera with up to 10x optical zoom and up to 100x hybrid zoom. XD Optics takes in more image information and applies its algorithms for cleaner, more detailed shots. In fact, in 3.5x zoom and even in 10x zoom, image and color performance look very good with well-preserved details and accurate colors with minimal loss of contrast and saturation.
Selfie Camera
The 13MP front camera has a 100-degree ultra-wide-angle field of view, which is adequate for large group selfies, and a 14cm autofocus. Images have good detail and accurate colors, such as skin tones. We suggest you go easy on the beauty mode, which we feel works best in small doses.
Low Light and Night Shots
In low-light shots, the camera app adjusts accordingly. Or, in instances of very low light, there's an option for night mode. Again, Huawei's XD Optics go to work with Ultra-fine Image AI algorithms, creating sharper photos with more detail and better color performance compared to devices within the same range.
The dedicated night mode allows for a longer exposure time, meaning you can take images even with a faint light source. True-Focus Fast Capture also comes into play, resulting in more focused subjects thanks to the fast autofocus and zero-latency shutter. For those into astrophotography, you can even capture stars with a tripod.
Final Thoughts
To say that the Huawei P50 Pro has the best cameras on a phone right now is in no way an exaggeration because it does. The handset's Dual Matrix Camera system really is best-in-class.
And that's not all. The flagship also boasts an elegant and premium design as well as the hardware and performance of a flagship phone.
However, it has a couple of drawbacks – there's no 5G and no native Google apps. Still, that doesn't take away what makes this phone so good. Besides, it can be argued that the speed of 4G (at least for now) is more than enough for most use cases. And as for Google services, you can always get it in one way or another.
In the end, we highly recommend the Huawei P50 Pro. As the saying goes, 'the best camera is the one that you have with you.' And at this moment, it sits at the top when it comes to smartphone photography with the best camera experience, powered by one of the most, if not the most advanced hardware you'll find on a phone.
Price and Availability
The Huawei P50 Pro is now available on Huawei Online Store, Shopee, and Lazada — priced at Php 52,999.
Huawei P50 Pro specs
Display
6.6-inches OLED Display, 2700 x 1228, 120Hz Refresh Rate, 300Hz Touch Sampling Rate, 1440 Hz high-frequency PWM dimming
Processor
Qualcomm Snapdragon 888 4G
Adreno 660
RAM
8GB RAM
Storage
256GB Storage
Rear Cameras
50MP Main, f/1.8, True Chroma Camera, OIS
40MP Mono, f/1.6, True Chroma Camera
13MP Ultra-wide, f/2.2
64MP Telephoto, f/3.5, OIS
Front Camera
13MP Selfie Camera, f/2.4
Network
4G LTE
Connectivity
Wi-Fi AX Dual Band, 2×2 MIMO, Bluetooth 5.2, GPS, NFC
Others
Fingerprint Scanner, USB-C, IP68
OS
EMUI 12
Battery
4360mAh Battery, 66W SuperCharge